Vertical Solutions Powered by Bridgera IoT
The Bridgera Difference
Bridgera accelerates your path to IoT success by applying our IoT platform and IoT service enablement expertise to provide you with a custom IoT service in weeks, not years. This is enabled by the Bridgera platform, which includes the majority of functionality needed to deliver IoT services in most industries – providing the perfect launchpad to accelerate the development of your custom IoT service. We then layer our IoT ecosystem and application development expertise to custom-build an IoT service that meets your specific needs. Bridgera also provides the Machine Learning capabilities needed to drive actionable intelligence from all of your company's data – across connected devices and existing enterprise systems.
We have experience developing IoT solutions for every industry – including healthcare, industrial, tracking, personal security and more – and a global development team that can support customers in any region. We take the time to understand your specific business goals and the needs of your customers to deliver IoT services that increase your revenue and competitive advantage while enhancing your customers' experiences.
About Us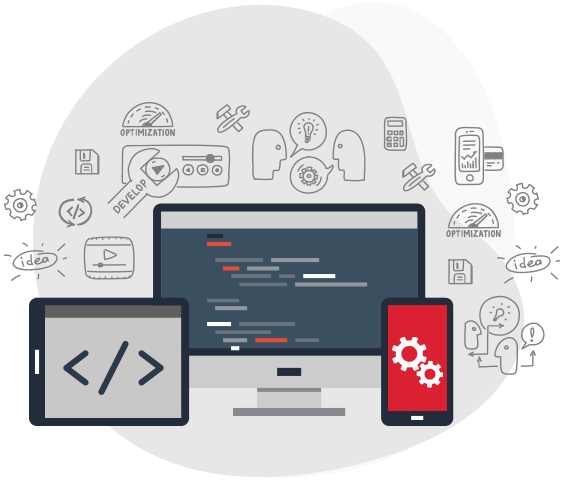 What problem do we solve?
Today, companies in every industry are relying on IoT to deliver new connected services that increase revenue and transform their customers' experiences. And beyond the connectivity of devices and delivery of connected services, organizations also need the ability to drive business insights from all of their data – across both connected devices and their existing enterprise systems – that provide actionable intelligence for their business. But most of these companies lack the IoT expertise needed to deliver those services in a timely, cost-effective manner.
Companies need an IoT service enablement partner that can accelerate their time to market while delivering an IoT service customized to the needs of their business. They also need that service to integrate seamlessly with their existing enterprise systems. They need more than just another IoT platform – they need an end-to-end partner capable of delivering actionable intelligence from both their IoT and enterprise system data so that they can increase revenue and deliver elevated customer experiences.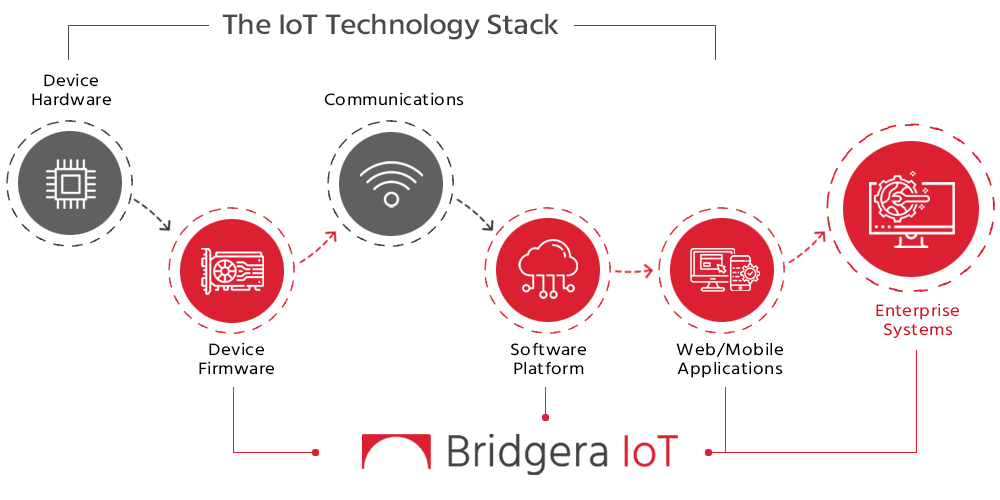 Bridgera works diligently alongside each of our customers to understand their business goals and then apply our IoT platform and development expertise to deliver custom-built IoT services in a timely, cost-effective manner. We understand the entire IoT stack, and develop embedded software code and device firmware in order to connect any IoT devices seamlessly to the Bridgera IoT cloud. We also develop bespoke web and mobile applications for each new IoT use case, purpose-built for the desired customer outcomes.
We provide customers with a truly holistic solution by integrating their IoT data with their existing enterprise systems and carrying out custom analytics. Our powerful platform and ecosystem enable IoT data processing based on customer-defined rules, making data actionable and automating key business processes for greater value.
Who are we?
Bridgera is your end-to-end partner for the successful development and delivery of IoT services. We accelerate your IoT success by developing custom solutions – built on top of our fully managed and hosted IoT platform and ecosystem – to help you deliver IoT services to your customers in weeks, not years. We custom-build IoT services for customers in every industry and have particularly deep expertise across a range of healthcare, industrial, logistics, and personal security applications.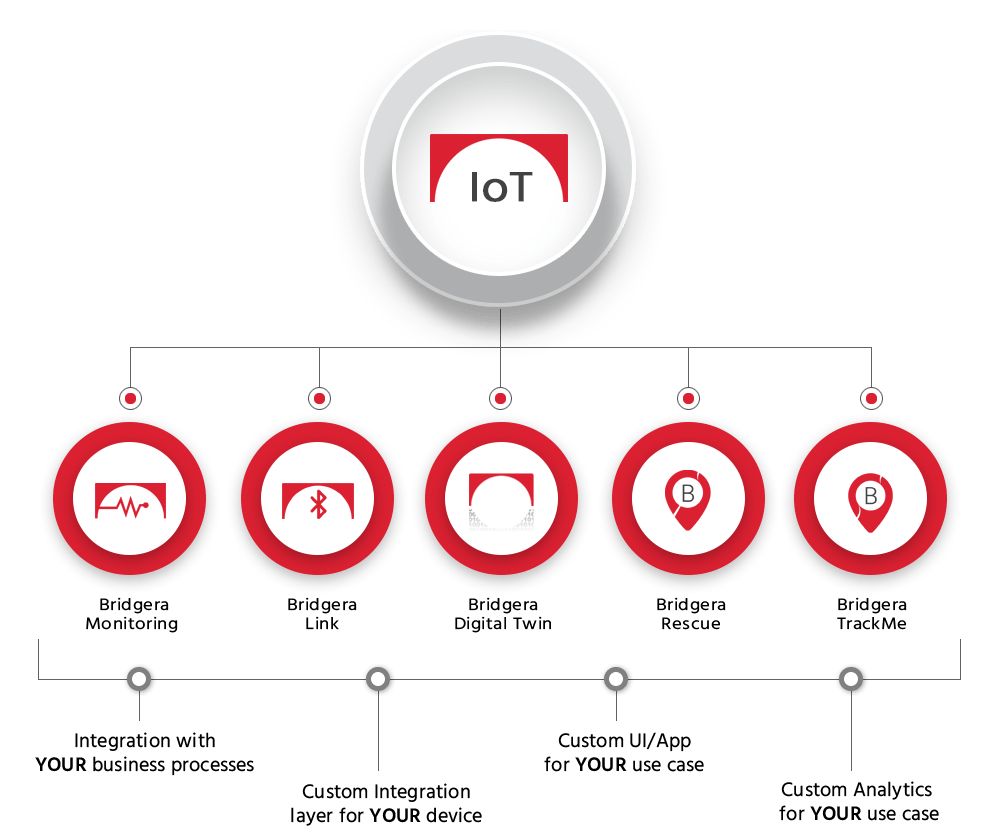 Why Select Bridgera as Your Customized IoT Service Enablement Partner?
Unlike IoT platforms that require a large up-front investment, deep IoT expertise, and ongoing management, Bridgera is your end-to-end IoT service enablement provider. With Bridgera, you benefit from:
Rapid development and deployment of your custom IoT service within a matter of weeks—not years.
An IoT service that is built for your – and your customers' – specific needs, without any costly trial and error.
Minimal upfront investment for a feature-rich, enterprise-grade IoT solution.
No need for in-house development and support.
Which Proprietary Platforms and Toolsets Does Bridgera Use to Accelerate Custom IoT Projects?
Bridgera's proprietary, cloud-based IoT platform and ecosystem provides the majority of functionality needed for most IoT use cases across industries. We also accelerate the development of custom IoT services with:
Bridgera Digital Twin – Providing a digital replica of each physical device.
Bridgera Monitoring – Our IoT application enablement platform.
Bridgera IoT – For scalable and reliable IoT data capture, processing, and storage.
A full suite of mobile apps, including Bridgera Rescue, Bridgera TrackMe, and Bridgera Monitoring.
Machine Learning and analytics to provide actionable intelligence from both your IoT device and enterprise system data.
Bridgera was our sole software technology partner from our inception in 2008. They developed an end-to-end understanding of our business, and their support helped us successfully diversify our service offerings to pursue multiple revenue streams. Be it application development, enhancement, production support or maintenance, Bridgera has always come through. What we appreciate most about working with them is their ability to step up to challenges and deliver the desired solution in time. There is no doubt that they have an extraordinary commitment to drive customer business success through their partnership.
Bridgera has been a key partner at Railinc for our mainframe to midrange legacy modernization initiative. This was a large undertaking with aggressive deadlines. We had limited documentation and in house expertise. Finding the right partner was critical for success. We evaluated other system integrators and migration products before turning to Bridgera. Their team was very professional and knowledgeable and they quickly became an integral part of the program. We are very pleased with the results.
Bridgera has been helping us with a 100% offshore team since 2010. The professionalism, commitment & responsiveness of their teams is commendable. They have done a good job managing risks associated with offshore execution, and ensuring that project milestones are consistently met. Over the years, they have become a dependable & trusted technology partner and have consistently delivered value on all fronts: quality, cost & timeliness. We are delighted to have them with us & would have no hesitation in recommending their services.
With global teams, Bridgera offers us a unique combination of onsite and offshore resources that consistently provide high quality delivery. They were able to transition support from other vendors who were not performing and then demonstrate continuous improvement through detailed monitoring & metrics. They are highly responsive to our changing needs and their on-demand ramp-up / ramp-down capability has been a key factor in achieving desired service levels with predictable costs. As we grow, we remain confident that Bridgera can scale & retool their teams to continue to meet our business needs effectively & efficiently.
With our entire legacy portfolio outsourced to Bridgera, since Feb 2014, RTS and its customers have already benefited from significant reduction in cost and time-to-market. We now expect to see sustained benefits arising from structured IT Delivery processes powered by an Agile execution methodology. The Bridgera team has hung in there with us and never waivered from their focus of providing solutions to modernize our systems and service offerings.
Bridgera has shown impeccable project management skills, to complement their incredible offshore development teams. They were diligent in helping in our designing and implementation of our product, which allowed us to bring the product to market on the target date. Our product is designed to alleviate some of the burdens caregivers live with every day and the products that Bridgera has designed on their own, have made our product more robust in a shorter time than we thought possible. We consider them a partner and feel fortunate to have found them. A great bunch of guys to work with who understand the growing pains of the entrepreneurial company.