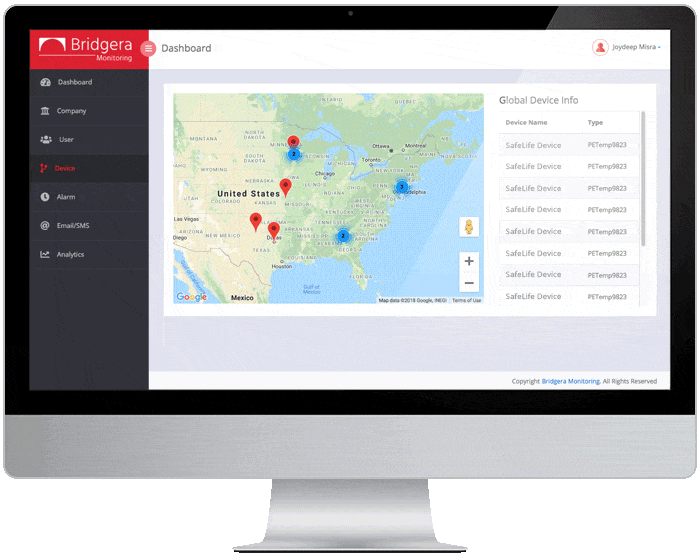 Bridgera Monitoring Highlights
Bridgera Monitoring is an Internet of Things (IoT) software solution that is incredibly easy to use, highly scalable and infinitely customizable. This flexibility makes it ideal for any number of applications.
Quickly invoke a web-based dashboard integrated with your digital health monitoring equipment.
Seamlessly transition from demo to prototype to deployment.
Manage a diverse portfolio of connected devices and clients under one custom-branded cloud application.
Foster interoperability between disparate systems such as IoT-enabled devices and EMR/EHR solutions.
Securely acquire, analyze and channel available IoMT data to strengthen clinical decision support and accountable care.
Request a Free Demo
Dashboard Monitoring
Monitor equipment in real time using custom dashboards that provide insight into performance and data trends.
Custom Alerts
Configure automatic SMS and e-mail alerts based on vital signs breaching user-defined thresholds.
Custom Analytics
Aggregate historical data, develop custom models and visuals and build a foundation for machine learning.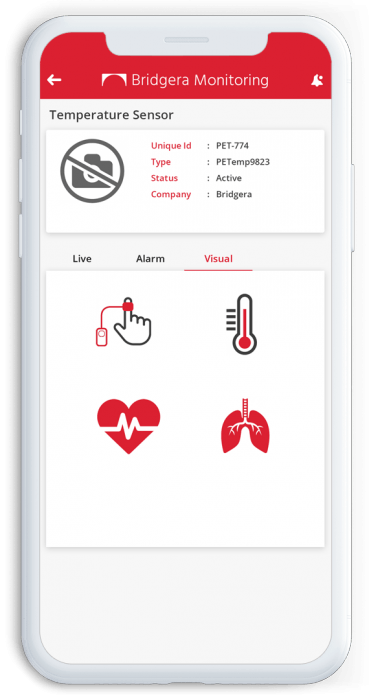 Hierarchical Views
Control access by role, organization or company with unlimited branching and white-label branding at any level.
Map View Capability
View the current location of a portfolio of devices on a map via a known address or mobile GPS coordinates.
Device Integration
Integrate all device types (e.g., Bluetooth, WiFi, cellular) in your environment. Manage your entire device inventory.
Vertical Solutions Powered by Bridgera IoT
Leveraging Bridgera IoMT
Bridgera Monitoring was developed on the Bridgera IoT platform to create a proven technology stack designed for enterprise scaling, robustness and flexibility.
While Bridgera Monitoring is a ready-to-deploy application, the Bridgera development team stands ready to support healthcare clients with specific customization requirements. These include:
Support for unique device types
Dashboard modifications to suit workflows or branding
Tailoring for precision medicine and Iot in healthcare informatics
Specialized IoMT data sources and analytic categories
Integration with third-party systems (i.e., billing or EMR/EHR solutions)
Rapid Prototyping
Many new IoT healthcare solutions are refined only through a process of trial and error after deployment. This prolongs development times, increases costs and typically results in end-user frustration.
Bridgera IoMT solutions avoid this by first concentrating on the desired end-user experience, then focusing on engineering and device electronics. This user-centric philosophy is at the core of our platform and our success.
Using Bridgera Digital Twin, we begin development by simulating device data capture and connectivity. The Bridgera Digital Twin utility integrates seamlessly with Bridgera Monitoring to simulate the output of any device type defined in the system. This allows healthcare providers to channel big data toward their exact interoperability and informatics requirements — quickly and cost-effectively.
Managed Service Delivery
The Bridgera Monitoring platform is securely hosted and operated by the Bridgera team as a subscription service. This cloud-based platform is monitored 24-7 by our help-desk team for on-demand availability.
On the development side, the Bridgera DevOps team always ready to support brand-new IoMT applications, added features to existing solutions and ongoing innovation efforts. We can perform device integration and customization services as enhancement requests or as custom one-time services.
Getting Started with Bridgera Monitoring
There are no limits to the number of device types available in Bridgera Monitoring. Each type is identified by a unique name with the following attributes:
Internet protocol (e.g., MQTT, TCP)
Data format (e.g., JSON, .csv, .txt)
Data fields/keys and values/types
Visualization graphics
Performance insights
You can simply select an existing device type or send us a specification request to add one. For example, if you have a Bluetooth device that doesn't connect directly to the Internet, Bridgera can provide a dedicated hub/gateway or adapt our smartphone app to bridge the connection.
Create a device instance from a device type and simulate the data stream with the Bridgera Digital Twin utility.
A device instance in Bridgera Monitoring is identified by a unique ID such as a MAC address or serial number. Each instance can be configured to include custom alarms and geographic location in addition to adopting the attributes of its device type.
After the instance is configured, Bridgera Monitoring is ready to capture and visualize device data — actual or virtual. By using Bridgera Monitoring in tandem with Bridgera Digital Twin, you can simulate a data stream within minutes and then swap the Digital Twin for a real device when it becomes available.
Repeating this simple step will add all your device instances. Or you can use Bridgera's capability to populate device instances en masse through its bulk upload utility.
Bridgera Monitoring offers a flexible model for authorizing and controlling access to the platform. This caters to uniform companies and organizations while also supporting the complex needs of hierarchical structures that are common in franchise or region-specific scenarios.
At every level of the hierarchy, the client administrator is able to brand the portal with a distinct company logo and color palette. It's also possible to segment production activity to keep it separate from development and demonstration efforts.
Once these intuitive steps are completed, your IoT application is fully ready to deploy to your end users.