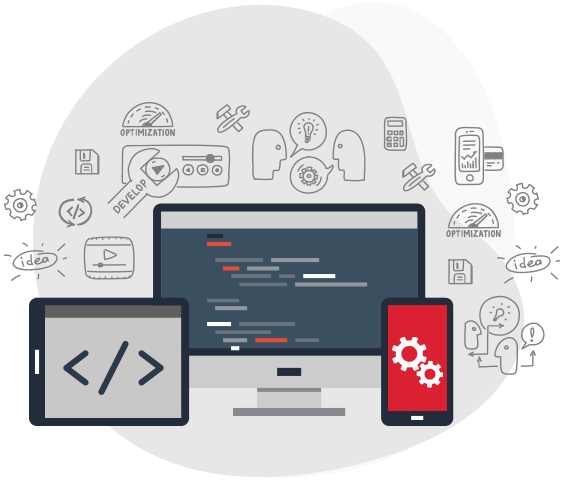 Custom Software Solutions for Enterprises
People expect software to be easy to use and available when they need it.  Deviation from these two principles is almost certain failure!
Our customer's come to us when they need a custom software application that must meet the demands of a highly scalable consumer solution or sophisticated enterprise requirements.
At Bridgera, we specialize in developing custom software applications to our client's specification as stand-alone  web and mobile applications or as an extension of an IoT Solution.
Request Quote
Custom Applications built to your Spec
Today's software applications are expected to be accessible on the desktop and on-the-go.  Bridgera's software engineers are ready to make that happen.
Responsive Web Apps for multi-platform browser based operation
Native and Hybrid Mobile Apps for efficient smart phone and tablet operation
Our engineers have a problem solver mindset that adapts to both consumer and enterprise facing applications. We bring hands on experience with satisfying unique custom software requirements in areas such as security, role based access, Bluetooth enabled services, WiFi and GPS location services, social networking, and payment applications.
Custom Web and Mobile App Development
SOFTWARE DESIGN SERVICES
User Experience and Technical Architects
DEVELOPMENT SERVICES
Full Stack Software Developers
INTEGRATION SERVICES
System Integration Specialists
HYBRID AGILE DELIVERY
Flexible Delivery with "First Time Right" Results
QUALITY PROGRAMS
Manual and Automated Solutions
Custom Software Support
ADMINISTRATION AND MAINTENANCE
Clients frequently express concern about supporting custom software. We stand by what we create for the entire software lifecycle through our flexible support and enhancement contracts.
DEVOPS SERVICES
Our DevOps service is a collaboration between development, QA, and operations providing automated software deployments and server management for highly available and scalable solutions.
Technologies behind our Custom Software Development