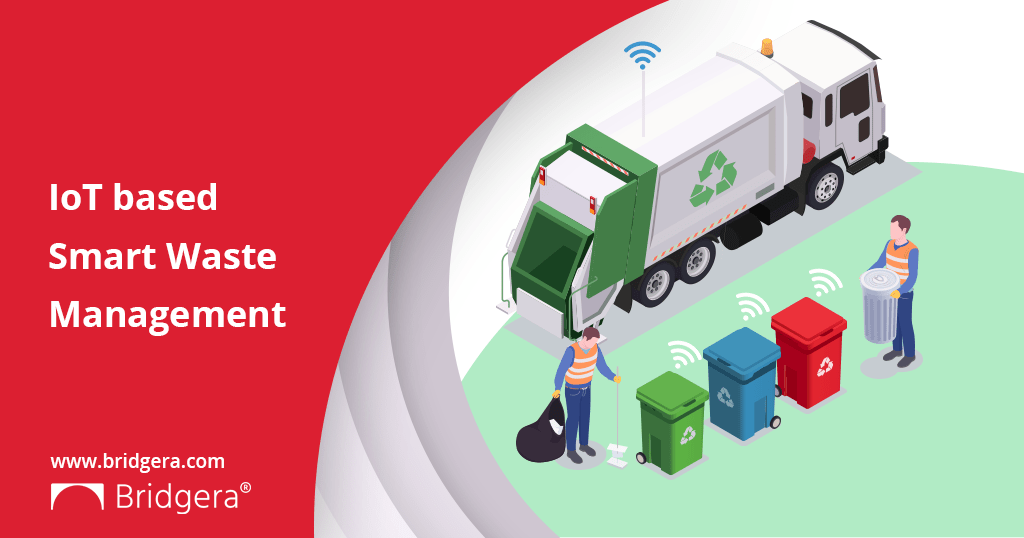 By Joydeep Misra
March 27, 2023
Waste management is a major problem in cities and towns across the globe. Many regions around the world don't have a proper waste collection and disposal system, and where there are such systems, they're often not very efficient.
The internet of things can change this significantly. IoT solutions can help municipalities and organizations can significantly streamline their waste management process.
This article explores some of the common challenges associated with waste management and how the internet of things can help resolve them. Read on to learn more.
Common waste management challenges
Managing waste from an entire city or a town is not an easy task. It's a complicated process that involves logistics, managing a vast set of tools, equipment, and personnel, and at the same time complying with local and national laws about pollution. Let's have a look at some of the most common challenges involved in these processes:
Properly separating waste
One of the first steps in waste management is to separate the waste properly. Different types of waste have to be handled in their own unique ways; food wastes may be composted, but plastic wastes have to be recycled or incinerated. Materials like glass and waste containing toxic chemicals have to be handled with extreme care.
But this is also one of the most challenging aspects of waste management. While many municipalities mandate citizens to separate their wastes at sources, there's still considerable effort after the waste is collected.
For instance, many electronic devices have plastic coverings but their batteries have to be separated. Among waste materials like cloth, paper, or plastic, some items may be recycled, but some may have degraded and can't be processed.
The separation process takes too much time and effort and is often performed manually.
On-time waste collection
Many cities have strict schedules for collecting waste. Residents may place their garbage in a bag or a bin in front of their homes and a truck may move them to a collection point. And every week or so the waste will be moved from the collection point to the waste management center.
While this approach works to a large extent, they don't take into account the variations in the quantity of garbage. The collection team may waste their resources checking empty bins on one day and see the bins overflowing on another day.
Proper waste disposal
Once the waste is collected and separated, the next challenge is its disposal. Different types of waste have to be disposed off in a safe manner with the least environmental impact.
But most waste disposal methods often take a lot of energy and require a lot of resources to maintain. If the equipment is not properly maintained, it may break down causing a waste management crisis, or may even leak toxic chemicals into the environment.
Raising awareness about pollution from waste
Waste management should not be just about the collection and disposal of waste. There should be an attempt from all the parties to reduce the waste and be more mindful of what they're throwing out.
Even cities with the most robust waste management systems struggle with this.
How can IoT streamline waste management?
Here's how the internet of things can make waste management more efficient and effective:
IoT solutions can automate more waste management processes
A combination of IoT sensors and AI vision can automate processes from waste collection to disposal.
For instance, many cities have deployed IoT-equipped smart bins that sent alerts when they're full. These systems ensure that bins are not overflowing and make the waste collection process more energy efficient.
IoT can also reduce the manual processes in waste separation and actively monitor the disposal processes.
The Internet of things platforms can help better manage energy usage and emissions
Many cities are already using smart waste bins to optimize waste collection routes and reduce fuel and energy costs in the process. Many waste management units also use sensors to keep track of the energy waste disposal systems use and the pollutants they emit. These systems can help cities and organizations to make their waste management process more efficient.
Recently, Bridgera worked with a waste management company to streamline its waste collection process. The project offered real-time analytics for the admin team, helped streamline the operations and make them more efficient, and at the same time created a better experience for homeowners and drivers.
IoT platforms can help better understand the state of waste management in a city or a town
IoT platforms can collect vast amounts of data from a city's waste management operations. It can provide detailed analytics into the amount of waste collected, fuel used, the rate of emissions, energy recovery, and other data.
Cities and municipalities can use this data to improve their processes and reduce their waste management costs.
IoT can help protect the waste management team and civilians from accidents and health problems
By installing sensors for toxic fumes or other chemicals, the waste management team can get real-time alerts of any accidents or problems with the facility. For instance, if the facility is producing excessive carbon monoxide or if there are any leaks within the system, a dedicated IoT platform can alert the team on time and prevent accidents.
What are the benefits of the internet of things waste management systems?
Here are two of the most important benefits of using IoT for waste management:
Reduce the cost of waste management

Make waste management safer
Let's have a detailed look at each of these:
Reduce the cost of waste management
By optimizing the route of waste collection, waste management agencies can drastically reduce their operational expenses. Besides this, organizations can also use IoT predictive analytics to ensure that their machinery and equipment are in proper working conditions and that they're not consuming more energy than required. They can also minimize their maintenance costs with predictive analytics.
Make waste management safer
Waste management often involves a lot of toxic and hazardous chemicals. Under the wrong conditions, they can cause uncontrollable fires and if they're not handled properly, they can cause health problems for people living nearby.
With IoT sensors, organizations can keep track of toxic chemicals and substances from the waste and ensure they're under control.
Ready to build smart waste management solutions? Contact Bridgera
Bridgera is a leader in custom IoT solutions, and we have created smart waste management solutions for companies and organizations across the globe. Our team has the skill and expertise to understand the unique waste management requirements and goals of our clients and build solutions tailored to resolve them.
Ready to build a smart, efficient, and effective waste management solution? Reach out to us now.
Planning for a new IoT Project?