Simple Personal Security Solution
When it comes to personal security, "good enough" is not enough. Carrying a Personal Emergency Response System (PERS) device may not be practical, desirable, or cost effective with no guarantee you will have it when you need it. Most people are inseparable from their smartphone. Bridgera Rescue runs as an Emergency Response App in the background of a smartphone ensuring that it is available when you need it.
A simple button push automatically alerts a monitoring center and opens up a direct communication channel. If voice communication is not possible, the subscriber's information and precise, real-time location is automatically transmitted to the monitoring agent so that help can be dispatched without delay. Simultaneously, predefined emergency contacts will be notified via SMS and email for an added level of comfort.
Worried about losing the Bridgera Rescue Emergency Response App among all the other Apps on your phone? No problem, coming soon is a BLE pendent that can be worn as a pin, on a chain, or carried in a purse or pocket. A simple button push on the pendent will set the Bridgera Rescue App in motion, hands free! The pendent will come with a tethering feature to notify you if your phone is out of pendent's wireless range.
Request a Free Demo
Panic Button
Instant call for help. Sends location and Identity to a security monitoring center for rapid assistance.
Location Tracking
Transmits the App location to a monitoring center, tracks movement and maintains history.
24x7 Monitoring
An always on personal security monitoring service available whenever a request is made.
Geo-Fence Alerts
Personal contacts receive arrival and departure notifications via SMS and email.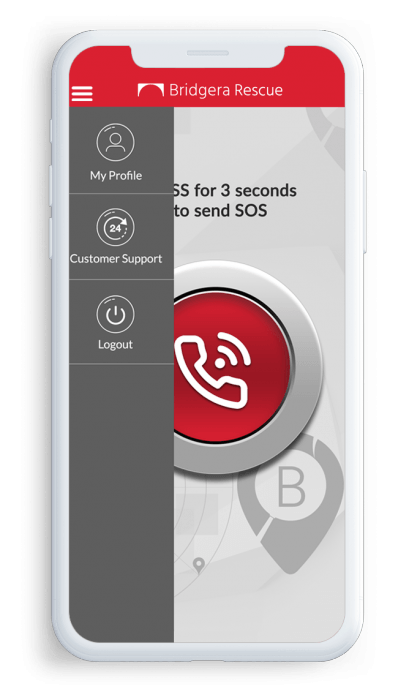 White Label Offering
Security Service providers, add a mobile Personal Emergency Response Solution (PERS) to your personal security portfolio with a minimal investment. Include your company's brand on the subscriber app and on the subscriber portal. A branded dealer portal is available for simplifying the activation and management of subscriber accounts. If you operate a monitoring center, Bridgera will integrate the Bridgera Rescue platform with your Central Station software. Notice a capability that we are missing, no problem, we accept enhancement requests.
Backed by a Powerful Cloud Platform
Powered by Bridgera IoT, our cloud platform provides a powerful back end service supporting Bridgera Rescue and purpose built location tracking and monitoring devices such as the Micron Prime One personal emergency response system (PERS) device. Pre-built capabilities include:
Device provisioning
Subscriber management
Hierarchical role-based access
Location Finding and Tracking
Geo-Fences
White Label Branding
You require a capability that we don't currently offer?  Let's discuss. While we offer a standard, ready to deploy platform, we recognize that our clients may have unique requirements for differentiation.
What is your device or App strategy?
What users will be accessing the system?
What kind of data are your devices processing?
What will you be using the data for?
Are there any other systems involved?
We'll customize our platform to cater to your unique requirements for personal emergency response system. This is usually completed within a few Agile sprints.
Bridgera provides a complete cloud hosted solution with 24×7 help desk monitoring with flexible support and collaborative enhancement options.
Don't be locked into a static platform! We recognize that technology advances rapidly and therefore we provide our client's with access to a full compliment of software developers to stay ahead of their competition.  Services include Architects, UI Design, Full Stack Development, Integration Services, Quality Assurance, and Operations.