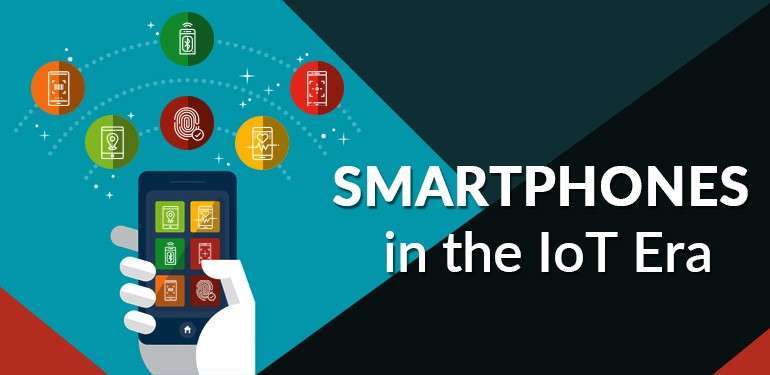 As the name suggest, the Internet of Things (IoT) is all about connecting 'things' with the 'internet'. Once connected, a 'thing' becomes an IoT device (commonly referred to as a 'smart' thing). An effective IoT device needs to have sensors, actuators and a Radio Frequency (RF) module that allows the device to transmit and receive data / signals via the internet.
Smartphones are arguably the most versatile IoT devices. They are packed with sensors. And almost everybody has one! (81% of Americans own smartphones, up from 25% in 2011 – Pew Research center).  Mobile applications running on smartphones can leverage the IoT data connectivity supported by their array of sensors to enable a variety of innovative use cases. 
Smart IoT Sensors that make it all possible
Most modern smartphones can directly capture and compile data from as many as 14 different sensors.
Accelerometer: How fast you are moving in a linear direction
GPS: Global Positioning System Sensors connect with satellite-based navigation systems to provide location, velocity, and timing data
Gyroscope: A three-axis sensor that determines the angle, pitch and roll in any device
Magnetometer: A sensor used for measuring earth's magnetism
Biometrics: Fingerprint, Retina, Face & Voice recognition
Camera: For image, video capture & display
Proximity Sensors
Bluetooth connectivity
Barcode readers
Barometer: Will tell you short term weather changes and used to estimate altitude
Touchscreen sensors
Heart rate monitor
ECG
Haptic feedback sensors
Use cases where a smartphone can be used as an IoT device include Personal emergency response, fitness tracking, location based asset tracking and natural vision processing. Smartphones can be used as a Bluetooth gateway for wearable Bluetooth devices that enable many IoT monitoring apps. Identity verification, GPS based guidance, position/orientation aware apps and games are well suited for smartphone based implementation.
When is a smartphone not a smart choice? Applications that require IoT devices to be placed in remote locations or have a long battery life are not suitable for smartphone use. Industrial monitoring/IIoT, healthcare applications that require wearable devices fall within this category. Cost is another limiting factor.
Smartphones are providing opportunities to offer new products and services that can change the way we live our lives and conduct business. 
Bridging IoT Technology
At Bridgera we develop solutions for smartphones and wearable IoT technology for disruptive healthcare use cases, that can change the way healthcare is delivered and administered. We have the technology framework and tools help build the bridge that will deliver your IoT driven  healthcare services to your customers. Contact us today to find out how we can set you up for success!

Resources
1. https://www.pewinternet.org/fact-sheet/mobile/
2. https://blog.adtile.me/2015/11/12/were-you-aware-of-all-these-sensors-in-your-smartphone/