By 2020, Gartner estimates internet-connected things will outnumber humans 4-to-1, creating new dynamics for marketing, sales and customer service. The internet of things has evolved in a significant way so far and its impact on the quality of life has been just as momentous. Here are the five IoT trends that will help shape the direction of IoT in 2020.
IoT Analytics
IoT's full potential can only be realized when a business can derive meaningful insights from the large amounts of IoT data collected from sensors and other connected 'things'. Three factors separate IoT Analytics from conventional analytics: near real-time data analysis for generating insights, ability to process a large variety of raw data formats and huge volumes of IoT data coming from multiple sources. Products and services that can leverage machine learning to drive IoT Analytics will stand out for delivering quantifiable ROI.
Edge Computing Takes the Lead
IoT connected devices are mostly storing their data on the cloud. However this has now become a limiting factor when it comes to storing, data extraction, and analyzing in an affordable and streamlined manner.
Edge Computing will allow IoT connected devices to send all of their data to a local device source first which will sort, filter, and categorize the data before sending to the cloud. This is a critical step towards faster and relevant processing with reduced latency for IoT applications.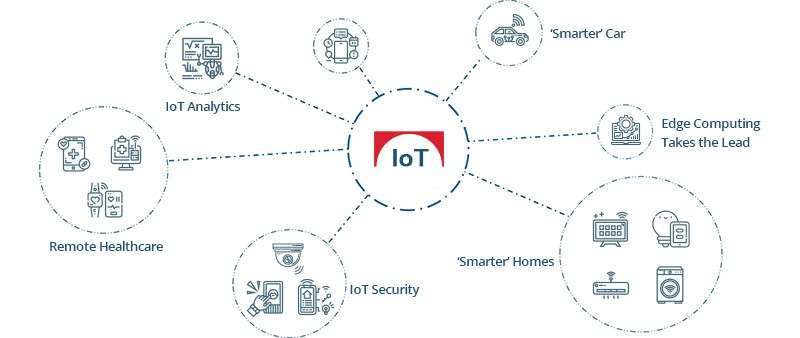 'Smarter' Homes and Cars
Swedish research firm Berg Insight as cited in Time magazine predicts 63 million American homes will qualify as "smart" by 2022, with everything from Internet-connected light bulbs to cameras that let us spy on our pets. A lifestyle change is coming with homes and cars becoming smarter by the day. Our everyday habits are being increasingly monitored and analyzed using IoT devices. Findings are reported based on data trends to help us identify and work on changes that will support a better quality of life.
Remote Healthcare
Wearable medical devices are already driving innovation in IoT for healthcare. 2020 will see an increasing trend towards remote health management services. Delivering healthcare to patients wherever they are via IoT technologies, will increasingly replace the current model of patients having to come into healthcare centers or providers.
Focus on IoT Security
As the world becomes more connected and we begin to expose more ways to collect business and personal data, the focus on countering data breaches and cybersecurity attacks will increase. In general, IoT devices lack the kind of security features that you would find in laptops and computers. Biometrics, artificial intelligence, and machine learning will combine with traditional security practices to drive measures that combat new security threats.
IoT Bridgera 2020
Bridgera has created a robust IoT solution framework that allows us to quickly build a custom solution to cater to your unique business needs. Contact us today to see how we can partner with you to help you leverage these IoT trends as a competitive advantage in 2020.