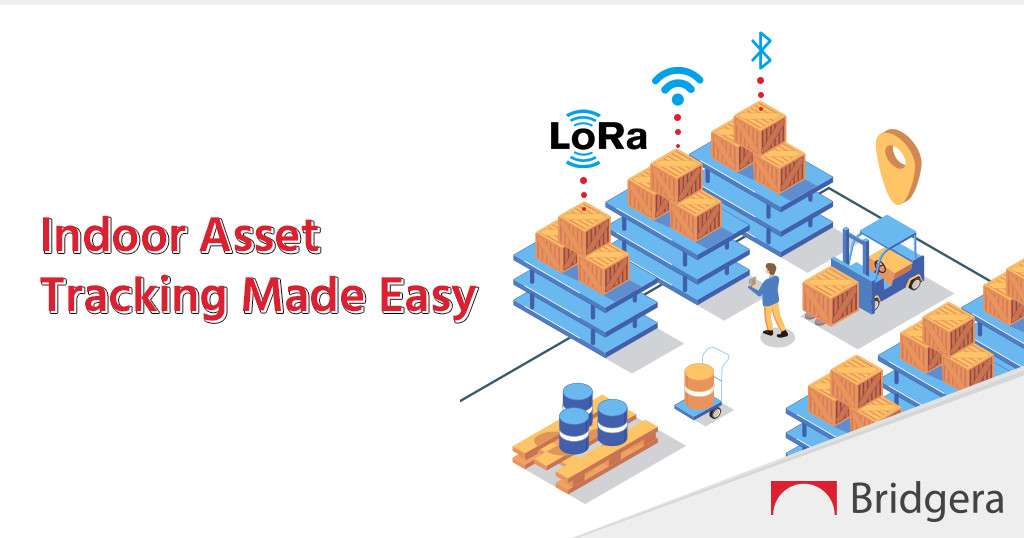 By Jeremy Patrick
January 11, 2021
With IoT technology moving as fast as it is, there is a lot of new technology to keep up with. It can be difficult to stay informed on the latest tech to facilitate a potential solution. In this article, we will break down four established asset tracking technologies to better understand their ideal use case in asset tracking. As is often the case, some of the newest options are the most expensive, feature rich. Meanwhile, other options have dropped in cost due to large scale adoption. A new generation of Bluetooth Low Energy, (BLE), Radio Frequency Identification (RFID), Long Range (LoRa), and Ultra-Wide Band (UWB) have brought new possibilities to industries hoping to solve the problem of, where did that thing go?
Bluetooth-Low Energy — BLE
First on the list is Bluetooth, which has become increasingly suited towards IoT needs over time with better power efficiency, longer range, and more data throughput. BLE tracker tags can be powered with a coin cell battery and last several years serving as a location beacon.
A Bluetooth gateway can be used to locate those beacons, and triangulate a location. This gateway can relay to a cloud-based solution, or the gateway can be on the device running the app. For instance, retailers can place BLE beacons throughout a store to help customers more easily find items. Then, shoppers can use their phone's BLE gateway to detect those beacons and display an items location on a map of the store.
Comparatively, a warehouse can use BLE beacons for indoor asset tracking. Since there are no shoppers with smartphones, this solution requires gateways throughout the warehouse. These gateways then communicate to a centralized platform. The relative strength of a beacon is compared by at least three nearby gateways in order to triangulate its position. Since BLE has a short-range, the location is fairly accurate.
Although BLE tags are low power, and broadcast a beacon for several years, the gateways usually are not. And even though BLE 5.0 quadrupled the distance of BLE 4.0, it still only reaches about 40 meters indoors to a gateway. Bluetooth is also a common wireless technology, and therefore somewhat prone to interference.
Radio Frequency Identification — RFID
At this point, RFID is a very commonly used technology for indoor asset tracking. RFID is characterized by very low cost tags that do not require any batteries, and a powerful receiver that acts as a checkpoint. One familiar example of RFID are the anti-theft tags used at the entry of retail stores that beep if a tag was not properly deactivated.
In an industrial application, RFID tags can be attached to products at the start of their manufacturing process. The receiver can be placed at various quality control checkpoints. Some logistics providers even comply with RFID scanning at milestone locations. Though, even if not, these low-cost tags are disposable at the end of their journey through the warehouse.
RFID is traditionally used mostly to know whether an asset is in a room or a closed location. The technology can be used for asset tracking as well, but it may not be the best solution in terms of accuracy and deployment cost.
Long Range — LoRa
LoRa might be one of the lesser known technologies on the list, but it may be the most interesting. As its name suggests, LoRa is suited for long rage applications, much wider than Bluetooth, and even WiFi. LoRa also has advantages in penetrating the walls of buildings too.
LoRa has its roots in its development to solve issues specific to machine to machine (M2M) communication and IoT devices. It falls under the umbrella technologies to this end, known as Low Power Wide Area Networks, or LPWAN. This LPWAN technology addresses many of the issues faced by indoor asset tracking platforms by targeting the root causes that IoT devices usually face. Namely, limited indoor range, poor battery life, and expensive tags, which prevented widespread IoT adoption.
In commercial use, LoRa tags can cover the area around an entire facility, or up to an entire city. The LPWAN allows tags to transmit small amounts data at a low power consumption. As a benefit of this, LoRa gateways require less power to communicate with the tags, leading to even better battery life than BLE gateways.
Even though LoRa was developed within IoT and M2M in mind, it is not perfect by any means. As it relates to indoor asset tracking, LoRa can provide acceptable location, but is not as precise as the newest BLE tags. Also, as major cellular providers begin to zero-in on the technology demands of the consumer IoT market, there will be major competition in the years to come.
Ultra-Wide Band (UWB)
If you haven't heard yet, Apple came out with a new iPhone this year. This one is the best one ever, and it includes a UWB chip for extremely precise proximity data. This ambition seems to target AR-apps, though its current use is to point directionally towards nearby iPhones to transfer files.
UWB is among the newest technologies on the market, and it shows. For indoor precision, it is unparalleled. If it becomes a next generation standard, then we can see all kinds of smartphone based indoor asset tracking. From indoor turn-by-turn, to extremely precise keychain tags.
Undoubtedly, now that Apple has put UWB into the mainstream, we will start to see a reduction in cost of the technology. But for now, this is still a niche option for early adopters who require a very precise location from their solution. Additionally, as an early option, the hardware has the possibility of changing, leading to early upgrades compared to more established alternatives.
Hybrids
Not unexpectedly, each technology carries its own pros and cons that need to be considered when planning an indoor asset tracking platform. To address this, solutions often take a hybrid approach. This approach uses the strengths of one technology to compensate for the shortcomings of another. Hybridization can be done on many levels, and it usually takes an expert who is experienced in the field to recommend the model of best fit for your company. For instance, BLE is a higher accuracy, but shorter range technology compared to LoRa. Thus, it might make sense to combine the two if a higher degree of precision is needed over a greater distance. Depending on your company's unique circumstances, a copmany like Bridgera might recommend using the two technologies together in different ways.
The first example takes the hybrid approach from the platform level. This uses both technologies independently for their intended purpose. Then, the data is aggregated by the asset tracking platform and appears to the users as a coherent whole.
One use case for this may require various facilities to communicate over a large distance. However, local workers may still need a greater level of accuracy than LoRa can provide. Therefore, local BLE beacons, received by a local BLE gateway can then communicate the aggregate data from this facility via LoRa to the other facilities over long-distance.
Alternatively, hybridization can also take place at the hardware level. If the asset frequently leaves the facility altogether, it may require its own onboard LoRa antenna. In this case, a hybrid board can be used that can also communicate with other BLE devices when nearby. When it is outside of bluetooth range though, it can still reach back to the asset tracking platform via its LoRa radio.
Hybrids are not without their own drawbacks, though. A BLE/LoRa board might sound appealing, but it will also cost more. Additionally, combining technologies might provide the best from both, but it may also produce the worst from both. In the case of hardware hybridization, it also means splitting battery power between the two uses. When planning any indoor asset tracking solution, it is important to consider the functional requirements necessary, and not always get wrapped up in the latest, greatest technology available.
Conclusion
A good technology partner knows just what to recommend to accomplish a goal. Often, there are alternative solutions that reach outside the box that can fulfill the same objective. It is also important to consider the people that will be using the asset tracking app, and how they will interact with it in the physical workplace.
Business owners should not have to become technology experts to make informed decisions that will give their workers the tools necessary to deliver exceptional results. A broad overview of the tools available is all that is needed to get started down the path to consider an IoT based indoor asset tracking platform. Assets do not always need to be high value to utilize tracking. These inexpensive and easy to use tags have endless applications throughout various industries. In only the past few years, these tags have dropped to only a few dollars, with battery life sometimes exceeding a decade.
From manufacturing to logistics, there is always a need to account for company assets. An asset tracking platform can give your company the accountability it needs to provide transparent reports on inventory and results. Stop wasting time searching for the tools you need to get jobs done. Simply open our app, type the item name, and there it is. Get started with Bridgera today!
Planning for a new IoT Project?