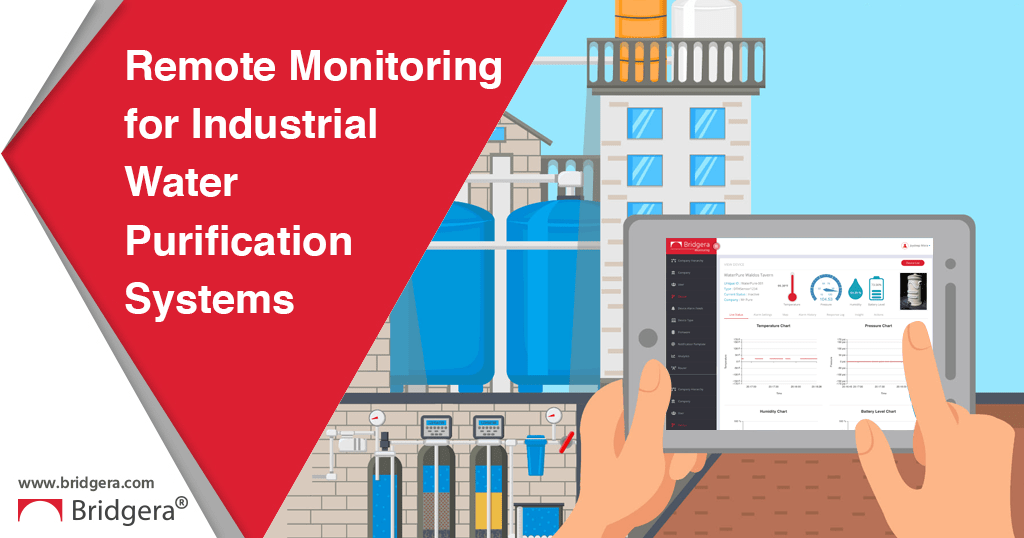 By Joydeep Misra
July 1, 2022
Lack of access to clean water is a well-known problem affecting billions of people globally. According to WHO, one in three people don't have safe drinking water and two out of five people don't have basic facilities to wash their hands. And in some regions, water availability is often interrupted due to equipment failure or unexpected maintenance work.
Robust water purification systems augmented by remote equipment monitoring solutions can help resolve this to a large extent. Water quality monitoring systems can ensure sustained and consistent availability of pure water to the masses.
In this article, we explore what remote monitoring is and how it can enhance water purification systems.
What is IoT remote monitoring?
Remote monitoring is a technology that allows users to monitor and manage devices and equipment without being physically present near them. The system collects data from the devices using sensors either added on to them or present within them. The data can be anything from temperature and pressure to vibration and speed. This is then processed within the cloud and can be accessed over mobile or desktop apps for further analysis.
The technology is used in both industrial and consumer solutions and helps users keep track of their devices. It enables predictive maintenance, data-centered decision-making, and industrial automation.
How can IoT remote monitoring solutions enhance water purification systems
Over the next 7 years, the water purification market is expected to show significant growth, with a CAGR of 7.5 from 2022 to 2029. And the smart water management segment is expected to show a CAGR of 10.1% from 2021 to 2026.
Here's how remote monitoring can augment water purification systems.
Remote diagnostics and troubleshooting
Water purification systems – particularly large-scale systems – are not usually mobile or portable. They are bulky and are often built or assembled in place. Most industrial water purification systems run continuously 24/7 with even minor interruptions causing major bottlenecks in the overall process. For example, filtration units – an essential component of most water purification systems – come fixed in large numbers on skids and are run almost continuously day and night.
Usually, if these systems face any problems, the customer has to wait for technicians to visit their unit and fix them. And if they had to replace any elements, it meant further delays. But most water purification or filtration units cannot afford long downtimes.
This is where remote monitoring adds value to water purification systems. These systems can transmit equipment status to technicians in a different location who in turn use this data to diagnose the problem. In many situations, technicians can resolve this issue remotely. But in case they have to make a visit, they have all the data about the problem even before they're there. If a module needs replacement, they can carry the spare with them and perform the replacement on site.
With this approach, operators can reduce unwanted downtimes in their industrial water purification systems. From a manufacturer's perspective, they can offer service packages at a lower cost, even if the equipment is placed in a rural or hard-to-reach location.
Centralized control
With most water purification systems, the impure water goes through many subsystems before it is clean and sent out for distribution. And each of these subsystems is often treated as a disparate system with its own (often manual) controls. This approach is challenging to optimize as you don't get a complete picture.
But with IoT remote monitoring solutions, you can control all of this equipment from a single point or a dashboard in real-time. With the data from a water quality monitoring system, you can make the entire operation more transparent and optimize your processes or replace equipment as needed.
For example, you can use IoT based water monitoring systems to collect information about water purity at different stages of the process. You can use the data from this water quality monitoring system both to ensure the quality of water produced as well as the status of equipment used. And you can configure the system to raise alerts if they exceed the limits.
IoT remote monitoring lets you automate processes in a water purification system to a large extent.
With centralized control, operators can measure multiple parameters in real-time and get more visibility over their water purification systems. They can use the data to plan maintenance and upgrades and improve the experience for their team.
When the system takes care of the nitty-gritty of the operations, the operators can work on the overall system and maintain peak performance.
Predictive maintenance
Predictive maintenance is a relatively new internet of things application. Usually, most operators go for preventive maintenance or breakdown maintenance; you either do regular maintenance to prevent breakdowns, or you conduct repairs when the equipment fails.
Both approaches have their pros and cons, but predictive maintenance brings out the best of both worlds. Instead of regular expensive maintenance, or costly repairs after a failure, predictive maintenance is about conducting maintenance only when it is necessary.
Smart water monitoring systems use IIoT sensors to continuously collect equipment data. The data is then analyzed by machine learning and AI models which then raise alerts when a device needs maintenance. For example, if a machine starts heating up excessively or vibrates more strongly, or produces louder noise, it can mean that the machine is about to fail.
Remote equipment monitoring can be used in water purification systems to predict failures before they happen. For example, if the difference in water quality before and after a filtration process is decreasing, maybe the filter is getting damaged or worn and needs replacement. By monitoring the water quality you can predict the equipment status.
Remote monitoring can make water purification systems more efficient and less prone to unplanned downtimes
Remote monitoring offers access to a previously untapped trove of data from water purification systems. Operators can use remote equipment monitoring systems to offer the best experience to the consumers at the least expense.
Bridgera is an industry leader in developing state-of-the-art end-to-end IoT water monitoring solutions. Reach out to us to discuss how you can leverage IoT remote monitoring for your water purification systems.
Planning for a new IoT Project?