Bridgera Monitoring Highlights
Dashboard Monitoring
Monitor equipment in real-time using custom dashboards that provide insight into performance and data trends
Custom Alerts
Configure automatic SMS and email alerts based on sensor values breaching user-defined thresholds
Powered by Bridgera IoT
Bridgera is an innovative software company specialized in building custom IoT solutions. IoT is a complex puzzle and it requires a lot of different types of skills to develop a custom IoT solution. IoT use cases are built around collecting data from physical endpoints or "Things" and then processing that data according to specific business rules to provide actionable intelligence. At Bridgera, we work with our customers to deliver IoT solutions tailor-made to their business needs.
How does Bridgera approach IoT Integration?
We use our own proprietary "Bridgera IoT" application enablement platform as a secure, reliable and scalable foundation for building client specific solutions. It can be easily configured to support the communication protocol (UDP, MQTT, LoRA, CoAP etc.) and data packet structure (payload) for any IoT device. Client specific business rules can be setup to support specific applications and to allow integration with external systems. We accelerate IoT adoption and implementation by cutting short the development and testing time. As a result, our customers get a robust cost effective solution in a matter of weeks, without having to invest heavily in infrastructure and large IT teams with different skills.
What are the key features of Bridgera's Application enablement platform?
Bridgera IoT is architected using big data technologies: so it is massively scalable and fault tolerant. It supports cloud / on-premise hosting and is offered as a subscription service, maintained and managed by Bridgera for the life of the service. It has in-built support for features like device provisioning, custom alarms and notifications, dashboard for real-time monitoring, role-based access control as well as self service reporting and analytics. A set of APIs allows easy integration of these features with client specific web and mobile UI's.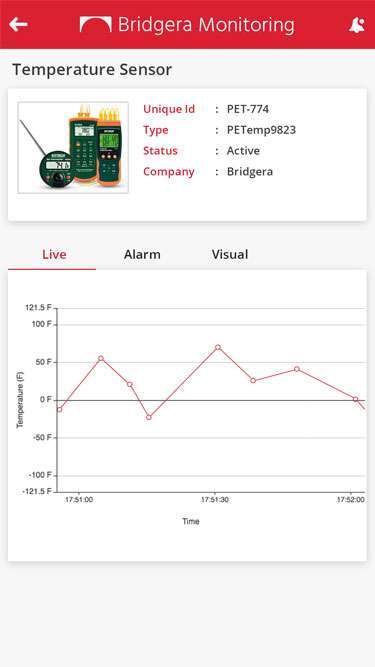 Why should a client engage Bridgera?
We accelerate business transformation through IoT solutions and drive competitive advantage through advanced Analytics that deliver actionable insights. Across industries, benefits can range from improved customer experience and operational efficiencies to predictive interventions that can save lives. We are headquartered in the US with a global delivery model supported by a 24×7 monitoring team. Our services are attractively priced as a SaaS offering and backed by stringent SLAs. In short, we make it easy for our clients to leverage a complex emerging technology like IoT to drive innovation and disruption.
Book A Free Consultation Call