By Joydeep Misra
December 7, 2018
It's that time of year again! If you're still shopping for that perfect gift, the IoT experts at Bridgera have compiled another list to help you on your search. Below you'll find our favorite smart gifts of 2018 for every price point.
10) Smart Doorbell
A smart doorbell makes the perfect gift for someone looking to spruce up their home with a bit of high-tech convenience. Systems like
Ring
 can be synced with smart assistants to send alerts to your phone or tablet whenever the button is pressed or movement is detected. This takes all the guesswork out of wondering who could possibly be at your door at 9am on a Saturday, and it's hard to put a price on that!
9) Smart Plugs
There is a myriad of smart plugs available on the market, but they all serve the same purpose: making life more convenient. For many people, a smart plug is the starting point for a connected home. They're affordable, easy to install, and work with almost any household appliance. If someone on your wishlist is looking for a way to simplify their life, smart plugs will do the trick.
8) Smart Meat Thermometer
If you have any grillmasters on your shopping list, consider picking up a smart meat thermometer. The smart thermometer improves on the design of traditional thermometers by using Bluetooth to send temperature alerts to your device of choice. Furthermore, many thermometers come with an app that will provide tips and recommended cooking times.
7) Cloud-Connected Security Camera
For more security-minded individuals, you cannot go wrong with a smart security camera. Many of these cameras are easy to mount and can sync with your device or smart speaker (Alexa or Google Home), providing a seamless and hassle-free solution to home security concerns.
6) Smart Faucet
The perfect combination of technology and nature, smart faucets help gardeners keep their plants watered with minimal fuss. By pairing the faucet with a smart assistant (Alexa or Google Assistant), the user can change settings and schedules from their phone or tablet.
5) Smart Scale
If you're like most people, there's a good chance that someone on your Christmas list is going to try to get in shape next year. This is why the smart scale is such a great gift for fitness enthusiasts. Many smart scales go beyond a simple weight readout and provide BMI data, historical reports, and can even measure the air quality in your home.
6) Eero Home WiFi System
The Eero WiFi system will make a traditional router look like an ancient relic of some bygone civilization. Most Eero systems come with 1 router and multiple signal boosters, and uses a mesh network to provide unparalleled connectivity anywhere in the house (or yard). It also comes with a proprietary app that makes troubleshooting easy and intuitive. The new era of home connectivity has arrived!
5) Relay Kids Screenless Smartphone
For the younger techies on your list, consider the Relay Kids Screenless Smartphone. It's not a  "smartphone" in the traditional sense, but more akin to a durable, water-resistant walkie-talkie. The child can press the button and immediately begin talking for instant communication. The device uses 4G LTE cellular networks and comes with built-in GPS tracking technology, which gives parents peace of mind.
4) Tile Pro Tracker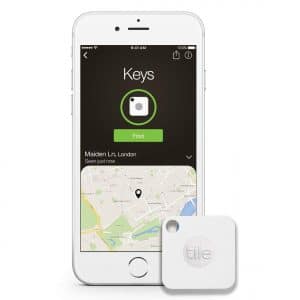 Another yearly favorite is the sleek and discrete Tile Tracker device. The tracker is marketed as an "anything finder", and is easily affixed to keys, smartphones, wallets, purses, or anything else you could possibly want to keep an eye on. With its own app that uses GPS data to pinpoint objects, this is a perfect gift for anyone looking to monitor their belongings.
3) Amazon Fire Stick
In a world where more and more people are ditching cable, the Fire Stick has only gotten more popular. If someone on your list is looking for a cheap and easy way to jump into the world of streaming, it doesn't get any better than this. It can even be synced with Alexa so you can start binging without touching the remote!
2) Robot Vacuum
If you don't mind spending a few hundred dollars on a very special someone, a cloud-connected robotic vacuum cleaner can make household upkeep a thing of the past. Many robotic vacuums can be controlled and programmed with an smartphone app, which means that you can put your feet up while the dutiful little vacuum cleans the floors on its own. It's the gift that keeps on giving!
1) Amazon Alexa
A perennial favorite, Amazon's smart speaker is both affordable and high-quality. Alexa is able to respond to voice commands and process queries from across any room, making it an incredibly convenient tool to have. Alexa also serves as a control hub for a variety of smart devices, and has very broad compatibility across the board. Whether you're wondering how many cups are in a quart, or you're looking for a portable speaker to play holiday hits during Christmastime, Alexa is always a good choice.
Whether you're a seasoned veteran of the Internet of Things, or you're brand new to the world of smart objects, there's a device out there for everyone. We hope you have a safe and happy holiday!
About the Author:
 Jordan Eller is the Digital Marketing Lead at 
Bridgera, LLC
 in Raleigh, NC. His mission is to make the Internet of Things accessible and easy to understand for everyone with a curious mind.
Planning for a new IoT Project?