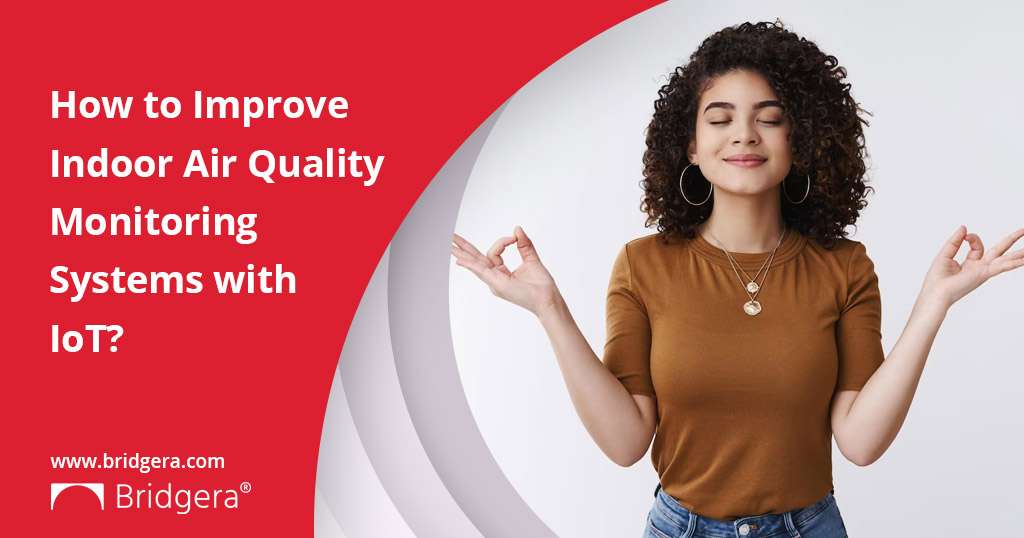 By Joydeep Misra
February 2, 2023
Good indoor air quality is one of the indicators of a healthy building. High-quality pollution-free air is crucial to keep the occupants healthy, energetic, and productive. On the other hand, poor indoor air quality can irritate the occupants, affect their productivity, and even cause diseases like cancer in the long run. Workplaces or residential buildings with high levels of dust, carbon dioxide, volatile organic compounds, and others may even fail short of building health standards from regulatory bodies.
With advances in the internet of things and sensor technology, building managers can efficiently and effectively take control of indoor air quality levels. Dive in to learn more about improving indoor air quality with IoT.
How can businesses use IoT to improve indoor air quality?
Managing indoor air quality is a combination of multiple processes executed seamlessly. Organizations have to consider the size of the building and the expected pollutants to create an effective air quality management solution. Once installed, building managers have to constantly monitor the air quality levels and ensure they're within healthy limits. They also have to ensure that the air quality management systems are working as designed.
The internet of things can help building managers in all these aspects. Here's how:
With IoT sensors, organizations can continuously monitor indoor air quality levels
Many different substances determine the air quality levels within a building. They include carbon dioxide, carbon monoxide, volatile organic compounds, suspended dust particles, and even substances that produce an unpleasant odor within the premises.
The first step to improving air quality levels is to monitor the concentration of these substances within the building.
Modern IoT sensors can monitor temperature, humidity, CO2, particulate matter, and other substances and raise alerts if they exceed the limits.
With the data from IoT sensors, businesses can automate their air quality control devices
By integrating IoT sensors with indoor air quality management systems, organizations can reduce the need for manual intervention.
Indoor air quality levels fluctuate throughout the day. If there are many occupants within a confined space, the CO2 levels can go up. Similarly, temperature levels, vehicular traffic outside the building, and other factors can affect pollution levels. There will also be seasonal variations in indoor air quality levels. In some months, the occupants may be exposed to high concentrations of pollen, while at other times the humidity levels may go up.
IoT solutions can help organizations automate their air quality management devices like the HVAC and air filtration systems. Businesses can configure their systems to process air at a higher rate when the pollution levels go up but keep them low at other times to minimize energy costs.
IoT can ensure that indoor air quality monitoring systems are functioning optimally
Besides automating the air quality management systems, the internet of things can also ensure that these devices are functioning as designed.
Clogged filters, damaged fans, or leaky pipes can reduce the effectiveness of indoor air quality management systems. It may be a while before the building management notices which can lead to expensive repairs and downtimes. In high-risk environments, it can affect the safety of the inhabitants.
But IoT sensors can constantly monitor this equipment and raise alerts if they're not functioning as designed. With predictive maintenance, organizations can reduce the TCO associated with this equipment.
With IoT data, organizations can understand the air quality requirements in a building
IoT systems can offer businesses a large amount of data about the air quality within buildings. Organizations can better evaluate the air quality management requirements within the buildings with this data. They can evaluate the output requirements of their HVAC systems and the level of filtration they may need, if they need any specific equipment and other aspects of their air quality control systems.
What are the benefits of using IoT for improving indoor air quality monitoring systems?
Here's how organizations can benefit from using the internet of things for indoor air quality monitoring.
Granular data can help design robust systems
As mentioned before, internet of things sensors provides a large amount of granular data regarding indoor air quality levels. With this data, organizations can design robust and efficient systems that use less energy without compromising the health, safety, and comfort of occupants.
IoT can reduce the workload and manual effort to manage indoor air quality
IoT systems can automate indoor air quality management to a large extent. Businesses can configure systems like HVAC and air filtration systems to adjust themselves as pollution levels vary. Organizations can also use sensors to monitor these systems and raise alerts if any of their components are worn out or need replacement.
Businesses can make long-term data-centric decisions about their air quality systems
IoT data empowers organizations to understand how air quality levels evolve. They can also get a better picture of how pollution levels are affecting their building as well as air purification systems. And they can use these insights to make long-term decisions and manage resources efficiently.
For instance, by monitoring air quality levels, businesses can purchase consumables like air filters and coolants in bulk. They can also make long-term decisions about maintaining, replacing, and revamping their air quality systems.
Organizations can use IoT to remain compliant with air quality requirements
In many industries, there are strict regulations and standards for indoor air quality. These standards are defined for the safety of occupants and specify acceptable levels of different pollutants. Many regulations require organizations to monitor and keep records of these pollutants within their premises. Besides these regulations, poor air quality can leave buildings and organizations vulnerable to lawsuits if they cause health issues for their occupants.
With IoT, organizations can ensure that the indoor air quality levels within their buildings remain within regulations. They can also keep detailed records of air quality using IoT solutions.
Ready to revolutionize indoor air quality monitoring with IoT? Reach out to Bridgera
Bridgera is a world leader in IoT remote monitoring solutions. We have developed and deployed cutting-edge internet of things solutions in industries worldwide. Our experts have years of experience studying and understanding user pain points and leveraging state-of-the-art technology to solve them.
With our IoT platform, we can take indoor air quality management to the next level within your organization.
Drop your emails here and let's discuss how we can build an IoT solution that works for you.
Planning for a new IoT Project?