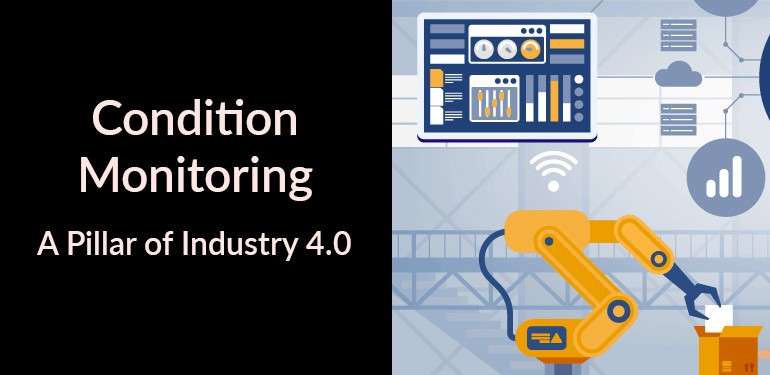 By Kamalesh Nayudu
March 2, 2020
Traditional manufacturing relies on manual health checks or scheduled maintenance checks to optimize productivity. Facing a growing shortage of workers, manufacturing is forced to become leaner and rely more on connected solutions to meet demands with desired quality at competitive price points. With Industry 4.0, the focus is shifting to improving operational efficiencies through automation. And CM solutions are front and center among the key IIoT technologies behind Industry 4.0. They leverage predictive and cognitive analytics as well as machine learning to automate and streamline preventive maintenance.
Simply put, Condition Monitoring refers to monitoring parameters that reflect the health of a machine or asset. The condition data is ingested using IIoT technologies and analyzed for Predictive Maintenance purposes. However, Product Quality Control is not the only benefit that CM offers.  Here are some of the other advantages that manufacturing companies can derive from the data collected through CM solutions, that are collectively fueling Industry 4.0 revolution:
Product design improvements
New product development
Maximize production through outage prevention
Reduce maintenance costs through effective incident management
Optimize inventory of spares by extending equipment life
How is Condition Monitoring Implemented?
Implementing CM means much more  than just using new test instruments. It means signing up for a culture shift: from Preventive Maintenance to predictive Maintenance. It starts with management vision and commitment and requires investments on multiple fronts: from provisioning the right equipment to training technicians to perform investigative work based on data points and taking consistent and timely actions across the organization, to reap all the benefits of CM.
Implementing a successful CM program requires:
Identifying critical assets that need to be monitored and potential risks related to their operation.
Collecting CM Data with the same test instruments measuring same set of attributes
Training technicians to interpret and report CM data
Identifying the corrective actions to be taken when CM data indicates anomalies
Ultimately, a CM solution visualizes the findings of condition data and sends alerts and notifications when the situation deviates from the norm.
Where is Condition Monitoring Used?
A few of the applications of CM across industries include:
Equipment that handles hazardous material and is hard to reach for manual inspection can be managed through an IIoT based CM solution eg. gauges that measure density of asphalt carry radioactive material and need to be closely monitored for cracks, misalignment of parts etc.
Vibration data can be critical for rotating equipment as in presses, rolling mills used in paper and steel factories
Oil rigs employ a network of sensors to monitor leaks, temperature of drills, pressure in storage tanks etc.
Power plants need to track the health of turbines
Monitoring the quality of engine oil can help flag the condition of the engine.
How can Bridgera Help?
Bridgera has been developing custom smart/digital IIoT monitoring solutions for its clients by combining leading edge technologies like IoT, Analytics, Mobility and Cloud. Bridgera Monitoring is a customizable and configurable framework that allows our clients to create alerts and alarms by combining business rules based on condition monitoring (IFTTT logic). We have a number of tools like our Digital Twin and Bridgera Self Service Reporting engine to help prototype and visualize your Use Case, so that you can minimize the total cost of ownership and time to market for your unique CM solutions.
Please CONTACT US today to learn more about the IIoT solutions we offer.