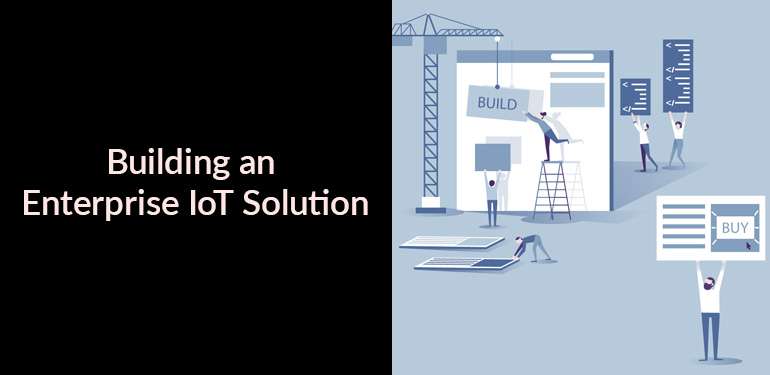 By Kamalesh Nayudu
April 3, 2020
The Internet of Things (IoT) is rapidly establishing itself as the next game changer for businesses around the world, as they ready themselves to compete in a connected world. In this article we examine the options that are available to an enterprise to test run and adopt this technology without missing a beat.
We look at three approaches along with their pros and cons to help you choose the one that is best suited to your needs.
Option A: Create your own custom solution from scratch
Businesses are mostly drawn to this option if either the deployment size is significantly large, the quantity of data stream to the cloud is very large, their key competency is technology, or there's no one right solution in the market to accommodate all their requirements.
Developing an advanced IoT platform is a time-consuming and complex process. The best IoT platforms in the market have been built over many years. The underlying technology stack is cutting edge and skilled resources are hard to find (not to mention expensive!). And to spice that up, the skills needed range from Big Data technologies to cloud, front-end, mobile, analytics. Your IoT team will need architects, designers, developers, QA testers, Data Modelers, DevOps engineers and security experts.
Once the solution is built, you need to ensure you have a 24×7 monitoring team to ensure outages and downtimes are minimized. While modern cloud based technologies offer redundancy, security and high availability with seamless switch-over to secondary instances, the integrated solution creates multiple points of failure and needs regular health checks to keep it performing optimally and scale safely.
The pros: you build what you need, the IP is yours and most likely your solution will be future ready. Cons: time to market can be very long, expensive resources (hardware and software) and major investments required before the solution is ready: potentially 1 to 2 years in terms of timeline!
Option B: Build using commercial IoT development platforms
You could choose to build your IoT solution by using a commercial IoT development platform to establish device connectivity and to ingest the IoT data. Good examples are Azure IoT hub or AWS IoT. Let's explore these two.
Azure IoT Suite – Microsoft's IoT platform integrates information collection devices into a consolidated system for transferring, storing, analyzing, and processing data. It is massively scalable and offers services like Azure IoT Hub (for device-to-cloud and cloud-to-device messaging), Azure Stream Analytics (data sorting), Azure Storage, Azure Cosmos DB (secure metadata storage and management of devices), and Azure Web Apps (using Microsoft Power BI).
Amazon Web Services IoT: AWS IoT Core is a platform that enables you to connect devices to AWS Services and other devices. Device gateways serve as entry points for IoT devices connecting to AWS. There is a broad spectrum of services ranging from edge to the cloud. FreeRTOS and Greengrass provide local data collection and analysis. AWS IoT offers Multi-layered security with superior AI integration & Analytics.
The overall benefits of this approach: upto 50% shorter implementation cycle, lower risks, savings in terms of time and money and scalability. The cons: your subscription costs increase significantly as the volume of your IoT devices increases, and processors that cater to your unique business needs have to be built to work within the individual ecosystems of these platforms, which requires significant platform expertise within your team.
Option C: Engage an IoT service provider or IoT Integrator
Your third option is to sign up an experienced IoT solutions/services provider to build a solution that meets all your unique needs (and nothing more). There are two main categories of such service providers: those that provide an SDK along with their IoT platform, for your team to develop the actual solution, and those that customize their framework to meet your needs and further integrate it with all your existing business applications.
This approach may offer the fastest time to market, while containing costs and minimizing risks. Here how the approaches stack up: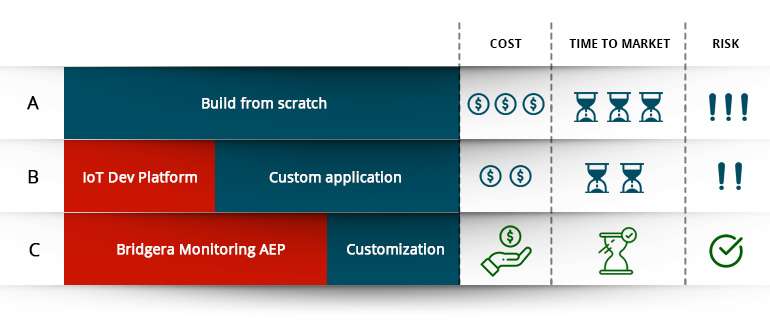 Your Approach
Choosing the right approach is complicated. At Bridgera we can make it simple for you.
We are a full service IoT Integrator. We have developed our own IoT Platform along with a number of supporting tools that help us rapidly build and deploy a custom IoT solution – and also integrate it with existing enterprise systems.
A good starting point is our rapid prototyping approach using the Digital Twin that allows you to test run your use case in a matter of days (without even designing the hardware!). Bridgera's Application Enablement Platform offers all the in-built support for the key IoT features that your business needs – device provisioning & management, custom alarms & notification, dashboard for real-time monitoring, insights, multi-tenancy, role-based access control, reports and analytics, and more.
All it takes is a little configuration and customization to enable your application and you can unlock the full potential of IoT in a matter of weeks!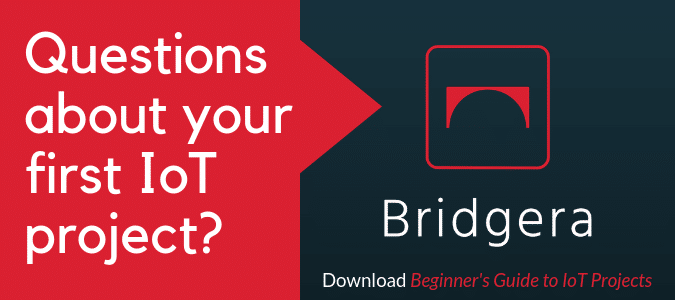 Planning for a new IoT Project?