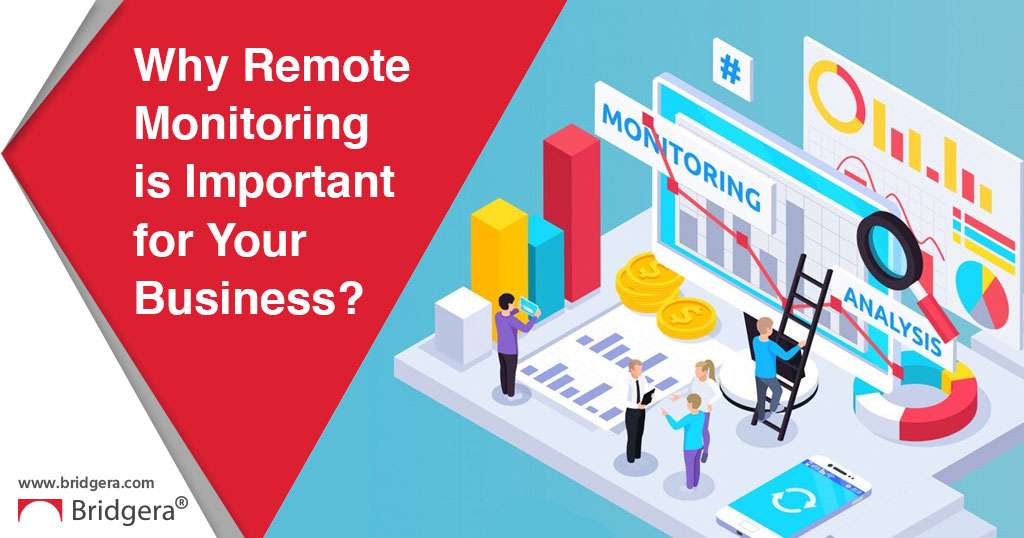 By Kamalesh Nayudu
June 13, 2022
Over the last decade, the industrial internet of things or IIoT has seen a large boom in innovation. We have seen the technology boom from a very experimental phase adopted only by startups and watched it grow into a robust and reliable technology trusted by industries worldwide.
The global market for IIoT has grown significantly over the past decade and is expected to continue growing this decade as well. From 263 billion USD in the last year to around 1.11 trillion USD in 2028, the global IoT market is set for massive growth.
And one of the main components of this market is IoT remote monitoring.
What is IoT remote monitoring?
As the name suggests, remote monitoring is essentially observing or monitoring something or someone when you're not physically close to it. It could be equipment in a factory, it could be a water distribution network, or it could be assets in an office.
The goal of IoT remote monitoring may be to collect data about its performance for further analysis, it could be for automation, it could be to raise alerts in case of malfunctions or failures, or as a record of activities.
Remote monitoring begins with a set of sensors collecting the data. It could be temperature, sound, vibrations, heart rate, or a sensor that collects the relevant data. In some deployments, the sensors already within the existing machinery may be used, while in some cases additional sensors may be added.
For example, in the case of robotic manufacturing, the existing equipment may have all the necessary sensors, and the remote equipment monitoring system can simply use that. But sensors may be added while retrofitting factory equipment for remote monitoring.
These sensors are further connected to an IoT gateway, which is more or less like a WiFi router; it sends the data to the cloud over the internet. This data can then be accessed through other devices like a smartphone, a tablet, or a PC, and can be further visualized and analyzed.
Benefits of IoT remote monitoring solutions
Remote monitoring solutions confers a lot of advantages for your business, no matter the service or products you're offering.
Remote equipment monitoring can make it easy for OEMs to troubleshoot the devices in case of any malfunctions. In the case of an ordinary device, a technician may have to physically see the device, understand the issue, and fix it. If the device needs a new part, it can cause further delays.
But for a device with remote machine monitoring capabilities, the OEM may be able to diagnose the issue remotely. They may even be able to fix the issue remotely, and if that is not possible, they may have all the data to fix it. This makes the repairs significantly faster, and cheaper and improves the end-user satisfaction.
You can also reduce the odds of your devices failing unexpectedly and at the same time reduce maintenance costs for the end-user. With remote equipment monitoring, you can analyze the data to figure out when they may need maintenance.
The stakeholders can also use the data from IIoT remote monitoring solutions for making better business decisions. For example, they can analyze if their device is being used enough or if they need to acquire more devices. Managers can analyze this data to improve the workflow and make it easier for employees to do their tasks easily.
Why does your business need IIoT remote monitoring?
When you're a small business or a small organization, it may be possible to check and inspect your infrastructure and business processes periodically. But as you scale up, this approach can cost you.
Your team may miss out on relevant data or information that can cost you in the long run. Maybe your equipment vibration has been increasing and no one noticed, and it breaks down disrupting the entire production process. Or maybe a workflow issue is causing your equipment to fail at a higher frequency. Or there's a lot of energy loss at your facility. Without industrial remote monitoring, you will miss out on these insights.
IoT monitoring solutions empower you to make data-centered decisions. It helps you measure and analyze the performance of every aspect of your organization.
Organizations are starting to leverage AI and machine learning systems to improve their business processes. Industrial remote monitoring systems will give you the competitive advantage you need to thrive in this age of big data and AI. By combining industrial remote monitoring systems with data analysis and artificial intelligence, you can deliver cutting-edge solutions to your end-users.
What are you waiting for?
If you want to take advantage of IoT remote monitoring for your business, the time is ripe. The technology is mature, and with custom and tailor-made solutions, you can take your business to the next level with cutting edge IIoT remote monitoring solutions from Bridgera.
Planning for a new IoT Project?