By Jeremy Patrick
September 10, 2020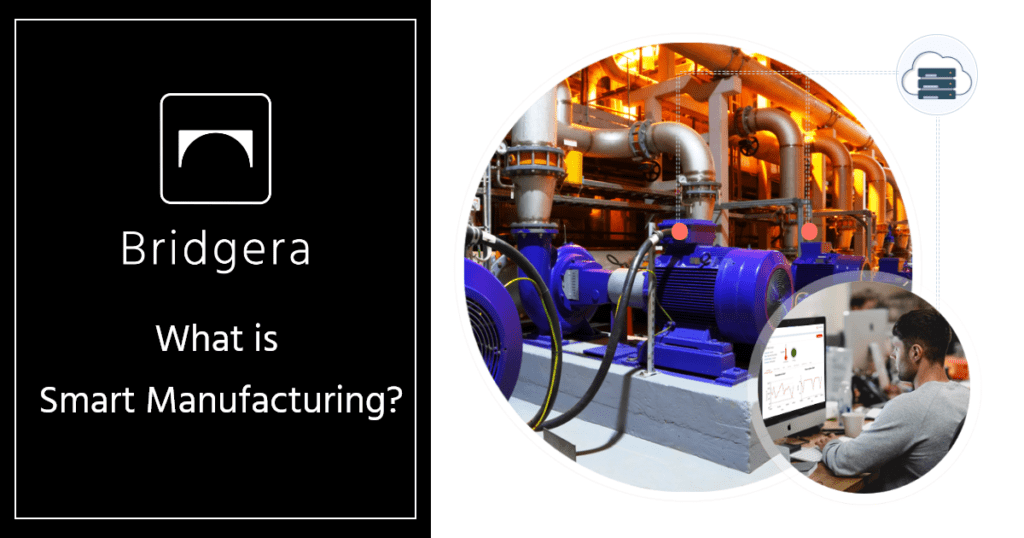 What is the Smart Factory?
The concept of the 'Smart Factory' represents the digitization of traditional manufacturing processes and machinery. There is no single technology that makes a factory smart. Instead, several Industrial Internet of Things (IIoT) systems come together to give rise to Industry 4.0.
In a smart factory, manufacturing equipment communicates to the factory's own network. This connects all manufacturing processes, from supply chain to production. This wholistic approach provides maximal visibility to operational efficiency. Bridgera helps factory managers understand how they can use these IIoT tools to create an end to end solution.
What are Advantages of Smart Manufacturing?
There are several benefits to this type of smart manufacturing. For instance, the ability to scale production with demand. Additionally, remote operators have immediate access to information specific to their role. All the while, data gathered by sensors can identify trends to prescribe maintenance and optimize efficiency.
It is also useful to simulate the smart factory digitally. This helps to quickly generate operational data from the factory floor. Then, these data can train machine learning models. With machine learning and automation, machines can self-optimize and report their status.
Even so, the smart factory does collect a considerable amount of data. Cloud computing is a great option to store and process this large amount of data. Then, a more granular insight is possible by comparing these 'big data' over time. In particular, Bridgera's AI Analytics can analyze these data to find trends to improve factory processes.
What Technologies are Behind Industry 4.0?
There is no single piece of technology that can make a factory smart. Several systems must work together to gather, transmit, process, and analyze data from the factory floor. For example, an Industrial IoT solution may include various physical sensors. Next, a cellular network sends the data to the cloud. A cloud computer can then organize and process it. Finally, Bridgera's AI could analyze these 'big data' to gain key actionable insights.   
With this in mind, consider the following example of how a more connected manufacturing process can streamline production.
Contemporary textile plants use predictive maintenance schedules to maintain factory uptime. And if no equipment fails, quality control randomly pulls from finished batches.
Comparatively, smart factories uses sensors on textile equipment to measure multiple factors. Some such examples are temperature, humidity, vibration and sound. These sensors are modular, and are inexpensive for retrofitting existing equipment. This additional information can provide more information than if a machine is just running or stopped. For instance, sensors could detect a machine running with torn fabric that is producing a defective product.
Additionally, a smart factory can perform quality control constantly instead of at random. Also, in real-time instead of post-production. In this case, cameras monitor the equipment described above. Then, AI will have monitored the feed via cloud computing. That way, any issues detected will halt production. Finally, even if a technician is off-site, they will receive a smart alert about the issue.
At the same time, a separate alert notifies the factory manager of the failure. The manager notes that these failures happen when the factory is too warm and humid. To remedy this, the smart factory recommends a 10% reduced production on warm, humid days.
How Can You Upgrade to a Smart Factory?
With the right help, upgrading an existing factory to a smart factory is actually much simpler than most assume. Wireless sensors can retrofit most existing manufacturing equipment. A centralized hub then receives the data from all the sensors. Then, a cloud service can monitor and analyze from offsite. A platform like Bridgera's can send alerts for user defined thresholds or based on role.
These solution are upgradable, so additional sensors or cloud services are easy at add later. This gives established factories the ability to upgrade at their own pace. It also keeps the upgrade cost low in the beginning as the solution scales.
Bridgera builds custom connected solutions to integrate factories with smart solutions. Do you have a factory or process that you want to have automated? Contact us for a consultation today!
Planning for a new IoT Project?