When was the last time you saw a Blockbuster? The once dominant video rental chain has all but disappeared. After going bankrupt in 2011, Blockbuster was bought out by Dish Network. There now seems to be only 13 stores left in the world.
What went wrong?
Blockbuster failed to keep up with a rapidly changing industry that was disrupted by Netflix and Redbox. The franchise that had a store on every corner quietly disappeared, and we were too busy binge-watching Netflix to notice.
The IoT Revolution
Industrial companies of all types are now facing a disruption called the Internet of Things. This disruption is being referred to as the next industrial revolution. If Netflix can bankrupt a company as big as Blockbuster, what could an industrial revolution do to unprepared businesses?
IoT is changing the way businesses, individuals, and "things" (inanimate objects) interact, communicate, and react. This results in the automation of tasks, and more importantly, the production of data.  IoT and the data it generates are revolutionizing every major industry. This means businesses either have to adapt or be left behind.
Dangers of the Comfort Zone
As we pointed out in "The IoT Tsunami: Will You Catch the Data Wave", IoT is experiencing rapid growth. No one can predict exactly how enormous it's going to get.  According to Fortune, the possibilities are endless and as a result "to not be invested in IoT is a very big (and potentially costly) mistake." If companies don't invest early, their more-forward thinking competitors will gain the advantage.
Stay Ahead with IoT Solutions
Compare Blockbuster, who rested on its laurels instead of innovating, to Netflix, the company who caused its demise. After the success of Netflix's DVD mailing service, it moved on to streaming services. When the streaming services took off, it ventured into original programming. Netflix's original TV shows resulted in considerable financial reward and critical acclaim.
Netflix has established itself as an industry trendsetter. As a result of Netflix's success, other companies like Amazon Prime and Hulu have started streaming services and creating original content. But Netflix isn't waiting for them to catch up. The company is now investing in IoT with The Switch.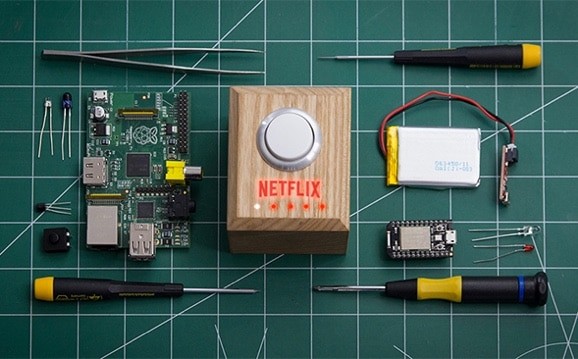 The Switch is a prototype wireless button that syncs with other devices such as your smartphone, television, and wireless lighting system and allows users to dim lights, start up their TV, silence phones, and order food. Netflix realized that IoT is the next big thing, and is once again moving ahead of the competition.
A company doesn't have to be as big as Netflix to benefit from IoT. It's true that IoT requires a great deal of software, hardware, and system skills which introduce significant risks without the right IT talent (see "IoT is Hard" blog). But help is available. The benefits in terms of productivity gains, cost savings, and new product offerings makes the effort meaningful.
Opportunities for Growth
IoT is providing companies with opportunities to expand into new markets and develop new products. Many companies are realizing that they can use their already existing strengths to create new smart products that benefit both themselves and their customers.
BigBelly is a good example of how IoT can facilitate growth in small businesses. Founded in 2003, BigBelly started with the goal of simply reducing the amount of stops along garbage collection routes. It created solar-powered compacting bins that fit much more garbage, and equipped them with sensors that turned a light on the can from green to red when it was full.
Since then, the expanding IoT has allowed BigBelly to widen its scope. It began endowing the smart, solar-powered trash cans with additional sensors. Those sensors transmitted information on the cans' fullness to CLEAN, the company's waste-management software platform. Now customers can check on the fullness of cans along their route for more efficient planning.
Not one to lag behind, BigBelly has big plans for their smart trash compactors. Soon its cans will be equipped with more advanced sensors that will provide detailed information on their use and the surrounding environment.
BigBelly has successfully leveraged IoT devices and supporting software to expand their business model and provide better products to their customers, enabling the company to grow tremendously. What began in New York has expanded to Amsterdam, Boston, Chicago, Dublin, Hamburg, and Stockholm, and BigBelly now has over 1,500 customers worldwide.
Increase Productivity
IoT solutions allow businesses to make more informed decisions based on data and facts rather than guesswork. For example, embedded sensors and apps can provide precise details on transactions and operations, allowing for better planning and less error.
In the case of BigBelly, sensors placed inside compacting trash cans in New York City have allowed garbage collectors to plan their routes more efficiently. Thus they can skip places that don't need emptying, saving them time and resources.
Lower Costs
An increase in productivity and efficiency caused by IoT solutions also translates into lower operating and manufacturing costs. In other words, the less errors that occur, the less wasted resources. Thanks to BigBelly's sensors and software platform, garbage collecting companies are saving fuel and labor by shortening routes and only collecting full trash cans.
Time to Innovate
Around the world, leaders in major industries are using IoT solutions to expand their services and offer their customers innovative and cutting edge technology. Netflix is taking advantage of IoT to offer customers convenience. Companies like Apple, Google, Blackberry, Intel, and Qualcomm are just a few of the major corporations investing in IoT.
Business Insider reports that businesses and organizations will spend nearly $6 trillion on IoT solutions over the next five years. If IoT wasn't a necessary part of today's business world, companies wouldn't be investing trillions of dollars.
The IoT revolution is here, and businesses need to be ready to innovate, or they will lose their competitive edge. This new Industrial Revolution has the power to create industries from scratch, transform existing ones, and destroy those who are not prepared.
Don't be like Blockbuster
Be like Netflix and BigBelly. Embrace change, take advantage of the new opportunities for growth, and invest in IoT solutions appropriately. Research ways in that your business can take advantage of IoT, and be creative.
If you don't know where to start, need guidance, or want to discuss options, Bridgera is here to help. Visit our IoT page and let us help you accelerate your journey.
About the Author: Sophia Davies is on the marketing team at Bridgera LLC. She is responsible for media communications and enjoys helping people understand the importance of IoT and Big Data.