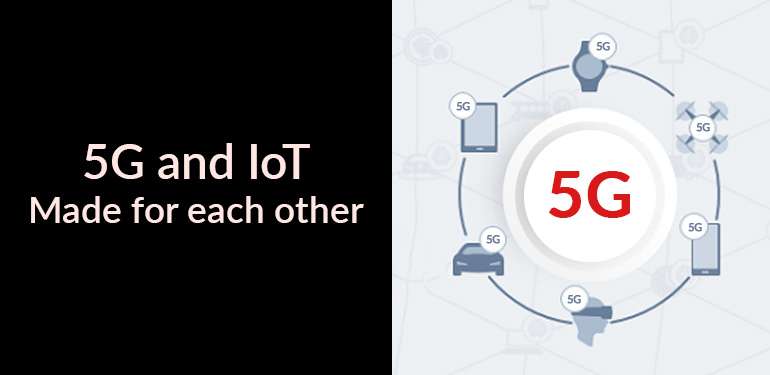 5G has arrived! It's difficult to ignore the hype around 5G networks as governments, telecom providers, vendors all compete over who will ride the next wave of connectivity. 5G promises significantly faster speeds and a more reliable connection to mobile devices.
But, it's more than just fast internet. The fact that it can carry more data faster can lead to unprecedented growth in the Internet of Things (IoT) technology. A Juniper Research study says IoT delivered by 5G is poised to drive $8 billion in revenue for operators by 2024, a substantial increase from the $525 million in 2020 itself.
Use cases for 5G in IoT
Certain to be a disruptor, once a full-scale deployment of 5G is in place, we'll see new or existing applications that will be fast-tracked for growth.
Industrial IoT communication
Smart manufacturing has given rise to millions of connected devices on the floors. 5G communications can create better connectivity as well as better control over a lot of processes that are performed manually today. Various use cases are possible with 5G here: smart factories, wireless industrial control, and arguably the most famous – wearables.
Connected healthcare
While EHR/EMR systems adoption and digitalization of medical data/records are just the first steps to modern and effective healthcare, 5G will allow patients to receive more timely care and monitoring via faster medical image transmission, telemedicine, emergency service bio-connectivity, and real-time bio-connectivity through wearables. Telemedicine in particular, can help manage pandemics like the recent COVID-19 outbreak, as it makes it possible for caregivers to monitor patients remotely. This allows better utilization of clinics and hospitals, while also reducing the exposure to caregivers.
Augmented Reality (AR) and Virtual Reality (VR)
Another area that will get a boost with 5G is the AR and VR applications. For example, in industrial applications, a technician wearing 5G AR goggles could see an overlay of a machine that would identify parts, provide repair instructions, or show parts that are not safe to touch. AR/VR can make remote corporate meetings more fun. Sports training is yet another area where AR/VR shows promise. With 5G goggles, the lower latency enables the receiver to see the soccer ball and kick it back before it passes.
Connected vehicles
Enabled by 5G, next generation cars and trucks will sense their local environment and communicate with cloud-based platforms. This could lead to the rise of innovative new fleet management solutions, in-car payments and connected commerce, remote diagnostics and OTA updates, predictive maintenance, usage-based auto insurance and more. Transportation of goods as well as people will become safer and cheaper.
Smart grids
5G will allow creation of virtual power plants that will use sensors to monitor and balance the precise generation and delivery of power in real-time from multiple diverse energy sources. Increased efficiency will lead to fewer emissions. Surplus energy could be stored and traded using smart contracts and blockchain.
Smart cities
Another area where 5G will have a huge impact. As urban population surges, governments are looking to digital solutions for solving problems like public services delivery, public transport, traffic congestion, etc. 5G will foster greater connectivity between all the distributed sensors and enable rapid data exchanges between them. Possible use cases include connected CCTV systems, smart traffic, street lights, intelligent parking.
Smart homes
People across the globe are purchasing smart devices like speakers, appliances, lighting. Unlike 4G, 5G can also work with low-power devices, meaning devices can "talk" to each other. For example, connecting service meters to a central network means energy suppliers can detect and respond to fluctuations in energy use. Another example could be the ability to do things quickly like smart fridge placing an order for depleted groceries or smart stoves detecting a gas leak and placing an emergency call.
What does the future hold?
5G has the potential to drive advancements in areas ranging from smart machinery, governance, entertainment to smart manufacturing, healthcare and more. We are looking at a future where the near real-time connectivity that 5g delivers, allows IoT and analytics to open up a whole new world of business opportunities.
Planning for a new IoT Project?