By Kamalesh Nayudu
December 18, 2019
From time immemorial, agriculture has been the key to sustaining civilization. Farming has come a long way from not-so-efficient manual methods of growing crops to automated large scale cultivation that combines the use of machinery with various soil treatment techniques and high yield seeds. Fundamentally though, the sector continues to be threatened by the vagaries of weather on the one hand and crop diseases and pests on the other. At the same time, the rapid rise in global population is increasing pressure on the limited land area available for agriculture.
It is, therefore, imperative that technologies like the Internet of Things be leveraged to develop innovative solutions to ensure the coming generations don't run out of food.
How can IoT make a difference?
IoT is ushering in a new era of smart farming to allow farmers to grow crops in a more controlled and productive manner, and facilitate better utilization of land thru proper crop selection and enhanced monitoring of soil, irrigation, temperature, plant health and other critical aspects that impact the yield.
Key elements of smart farming include:
Farm equipment: Affordable access to farm equipment through low cost need based rentals as opposed to capital intensive purchase. A number of uber-like models are already available to farmers in remote locations to help them get more output from small and large farms.
Water Management: Automation of irrigation systems thru sensors that measure soil and weather conditions and thereby ensure water is optimally utilized
Soil Management: Greenhouse and hydroponic farming allow farming around the year in every region, including urban locations like roof tops
Crop quality: Crop disease control through early detection using natural vision processing and electronic pest deterrents
Real time 24×7 controls: Remote monitoring and control is a key differentiator that has enabled smart farming through IoT
Analytics: Putting all the IoT data to work through multi-dimensional analysis of crops, weather, economic conditions etc. to help predict yield and guide crop selection, interventions, etc.
For regular updates on innovative IoT use cases that are defining the future of smart agriculture, you may follow @BridgeraLLC on Twitter. We would be publishing a series of articles on the advantages and benefits of IoT In Agriculture in coming months. Stay tuned!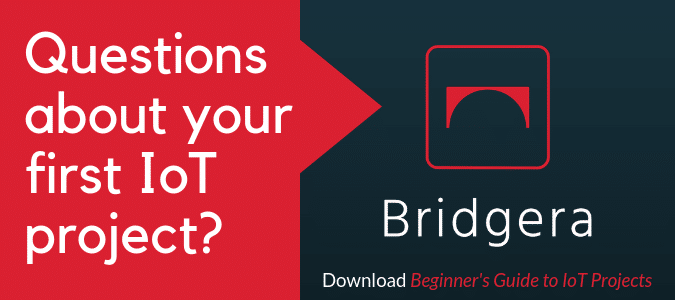 Planning for a new IoT Project?