Monitoring centers, also referred to as central alarm stations, exist to monitor situations and provide assistance in expedient and efficient ways. These centers or stations can be responsible for monitoring a variety of different situations, from security monitoring to personal emergency monitoring and even household emergency monitoring (such as smoke alarm monitoring). Each center is staffed by support agents who are responsible for processing requests, reacting to alerts, and dispatching operators. In order to be effective in their monitoring function, they need to process a huge volume of data pertaining to the person or asset being monitored, on a near real-time basis.
In the personal security industry, these centers provide support during emergencies, such as a car breakdown or household emergency. In many cases, the support agent's ability to provide assistance is predicated on the subscriber's ability to relay crucial information, such as their location or current health situation. This can be a problem if the subscriber is in an unfamiliar location, or is in such poor health that they can't describe what's happening to the agent. Luckily, the Internet of Things can offer a multitude of solutions to enhance their effectiveness by seamlessly integrating with the software used by monitoring center operators across the world.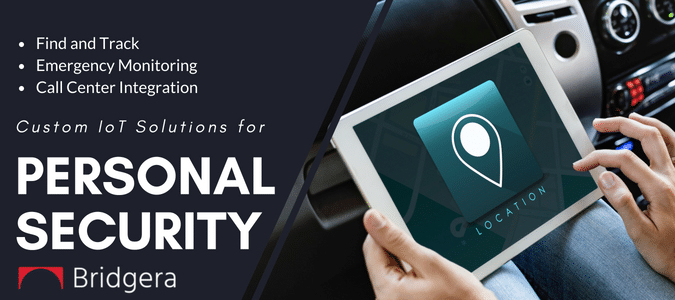 Emergency Assistance Made Simple
Without an automated solution, calling for help during an emergency may not even be feasible. Without the aid of IoT, a person would be responsible for describing where they were, what happened to them, and what sort of help they need. For example, if someone's car breaks down on a rural road with no street signs or landmarks, it would be incredibly difficult for them to receive dependable assistance. A more serious example would be when a 'lone worker' is involved in an accident, or is facing a hostile situation, he or she may not be able to place a call for help manually, leading to serious, or even fatal consequences. However, if they had an IoT-enabled app for emergency response, the process would become quick, simple and reliable. With the press of a button, the monitoring center agent would be able to use GPS data to pinpoint the customer's exact location on a map, without any need to gather this information manually. Voice calls may also be possible depending on the nature of the monitoring device and situation. Once an operator is dispatched, the agent can track the operator's route in real-time as they approach the customer in need of help.
How Does IoT Integrate with Monitoring Center Software?
Monitoring center integration is a straightforward process that generally requires three steps that can be summed up as Connect, Keep, Send.
1) Connect
The first step in monitoring center integration is connecting customer information with the monitoring center. At the time of the customer onboarding, their information, along with the information from the device, needs to be pushed to the alarm monitoring software. After the initial push, the customer information is linked with local emergency services. Once this connection is established, dispatching emergency personnel becomes more quick and efficient.
2) Keep
Now that there's a link between the information and the emergency services, it's crucial to keep the customer and device information in the monitoring software up-to-date with the IoT platform. This prevents any logistical errors and assures that both the software and the platform are in sync.
3) Send
The final step is to send signals from the IoT platform to the monitoring software along with the required information in case of an emergency. Once all of these steps are finalized, the integration process is complete and the solution is ready for use.
Bridgera IoT is designed for quick and easy integration between Internet of Things hardware (such as security monitoring hardware) and enterprise software systems including alarm monitoring or central station software found in monitoring centers. With a small amount of customization effort, our IoT platform pushes location and subscriber data in real-time to monitoring center software. Our deep experience with software integration allows us to onboard a new monitoring center quickly and efficiently.
As an IoT integrator, Bridgera bridges the gap when new monitoring devices are introduced. Bridgera will provide value added development support to evolve the IoT solution as you identify new use cases and devices for continuous improvement of your operations…without the customer requiring to have a large team of internal software developers.
With monitoring center integration enabled by the Internet of Things, personal security boundaries are now removed, making it easier than ever to coordinate with central station software. At Bridgera, innovative IoT solutions are our specialty. We adapt to your specifications, and develop a custom IoT solution tailored to your needs.
About the Author: Jordan Eller is the Digital Marketing Lead at Bridgera, LLC in Raleigh, NC. His mission is to make the Internet of Things accessible and easy to understand for everyone with a curious mind.