By Susmita Pathak
January 6, 2020
Recent studies by the Centers for Disease Control and Prevention have shown how almost 6 in 10 adults in the country have at least one chronic disease while 4 in 10 adults are suffering from two or more. According to a report from Axios, Americans spent $3.65 trillion on health care in 2018 (over $11,000 per person), with 59% of this spend going to hospitals, doctors and clinical services. Health Affairs estimates this spend to grow by 5.5% on average from 2018 to 2027. In such a scenario, Telehealth appears to be one of the most promising technologies to control spend on chronic disease management for better patient outcomes.
Telehealth to the rescue
The US Census Bureau already specified that about 60 million people, or one in five Americans, live in rural America. As a result, a large population remains devoid of access to specialized healthcare facilities, forcing them to drive long distances to visit their healthcare providers. Telehealth and telemedicine allow such patients to consult with their care providers from the comfort of their home. Using the technology, the care providers can use live audio or video as well as smartphones and other digital tools to manage a patient's condition remotely, reducing the need for in-person consultations. Patients not just get access to the most specialized care in a timely manner, but also reduce the cost of care by lowering or eliminating travel expenses. The spread of chronic diseases such as diabetes, cardiovascular diseases, and others is anticipated to boost the growth of the Telehealth market to $19.5 billion by 2025, up from $6 billion in 2016.
What Telehealth offers
Apart from providing enhanced and easy access to specialized care, Telehealth offers a lot more benefits to patients while being equally useful for healthcare providers. It helps in:
Easy monitoring of the patient's lifestyle
Timely and rapid diagnosis
Delivering quality care, thereby:

Reducing hospital admissions
Decreasing hospital readmissions
Minimizing the span of hospital stay for patients
Making patients more involved in their health care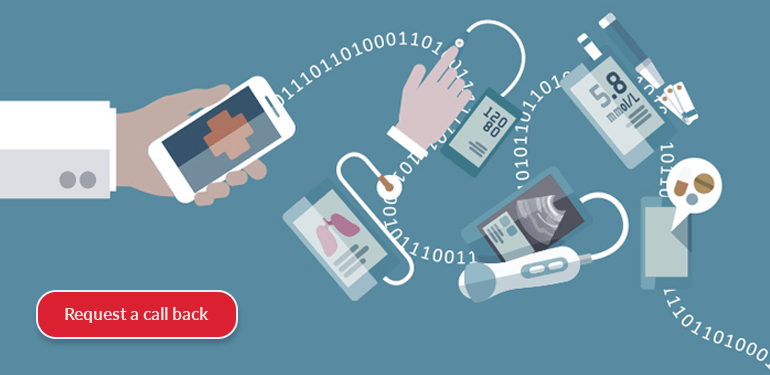 Telehealth monitoring & post-cardiac arrest care
VHA's Former Chief Consultant for Telehealth Services Adam Darkins stated how Telehealth services in the VHA post-cardiac arrest care program reduced hospital readmissions by 51 percent for heart failure and by 44 percent for other health issues. VHA has been using IoT health monitoring devices for several years to track vital symptoms for patients suffering from chronic diseases. The home Telehealth devices are offered to patients who recently get discharged. As the devices help in tracking the health status of patients even after their release from the hospital, the span of hospital stay automatically gets reduced. Above all, VHA also recorded patient satisfaction levels to 84 percent so far as using home Telehealth services provided to them were concerned.
Devices like heart rate monitors are portable enough to be carried wherever patients go. An HRM enables them to measure the heart rate in real time and display the results. It may also record the readings to be used for later study. Recently, Apple also announced the release of its ECG app for the Apple Watch Series 4 via a simple software update. The crown and sensors included in the latest series of the Apple Watch monitors the electrical patterns of the heartbeat. The same is then analyzed to predict the heart's condition along with detecting the possible cardiac issues beforehand.
Telehealth monitoring & chronic diabetes management
Using digital information and advanced communication technology, Telehealth offers the best diabetes management techniques. According to a report released by CDC in 2017, over 100 million American adults suffer from diabetes or are living with the pre-diabetic stage. As a result, controlling the situation becomes the prime responsibility of the healthcare sector. One of the major factors that leads to the diabetic condition in an individual is his or her weight. The wide use of Telehealth services has introduced devices like digital body weight scale, which is connected to either Wi-Fi or Bluetooth and helps physicians to get the readings automatically as soon as patients stand on it.
A Continuous Glucose Monitor, or CGM, is a device developed to help diabetics to keep a constant check on their blood glucose levels for multiple days in a row. Taking down the readings at regular intervals helps clinicians to know if the medication is effective or a change in the prescription is needed. In 1999, US Food and Drug Administration or FDA approved the first CGM system, which inspired a number of smart CGMs to hit the market since then.
In addition to the above devices that help in chronic disease management, there are many other equipment that aim at improving the quality of life of the people, encouraging healthy living. Along with Fitbit, a fitness device that even measures duration and quality of sleep, clinicians can also suggest and offer other Telehealth devices, including pulse-oximeter, insulin pens, connected inhalers, ingestible sensors, connected contact lenses, etc. to ensure the well-being of their patients.
How Bridgera can help
Bridgera has been developing custom smart/ digital IoT healthcare solutions for its customers using the leading edge technologies like IoT, Analytics, Mobility, and Cloud. Our technology platform is the fueling engine behind creating new solutions to help companies become smarter and more efficient. Bridgera's proprietary technology platform Bridgera IoT provides a strong foundation for remote patient monitoring and continuous care via automatic alerts. We have been partnering with medical device manufacturers and helping the ingestion of data from the medical devices into Bridgera cloud via Bluetooth or Wi-Fi.
Please CONTACT US to learn more.
Planning for a new IoT Project?