Since the mid-1980s, personal emergency response system (PERS) have become much more commonplace and consumer friendly. Although they were originally designed for senior citizens with health issues who lived alone, the appeal of PERS has now expanded to include anyone who wants to enjoy independence without sacrificing personal security.
What exactly is a PERS? In their traditional form, these consisted of a battery-powered personal emergency alert device, such as a pendent necklace or a wristband. This device featured a button that could be pressed in the event of an accident or a threat. The emergency signal would then be transmitted to a console connected to a nearby telephone. Via the telephone, the console would call a monitoring center that could summon help. 
It's easy to see how a personal emergency response device like this can help avert serious harm or even save lives. In the case of a break-in, for example, the homeowner can contact the police without actually having to pick up the phone and dial the full number. Or in the event of a medical emergency like a heart attack, the victim can alert the paramedics instantly and with minimal effort.
What's changing is the way these emergency response systems are designed. Yesterday's dedicated alert devices are quickly being replaced by smartphones, which are always by our side and have advanced technology like voice assistants, GPS and cellular communications already built in. 
Software in the form of an app can then turn that smartphone into a powerful personal emergency response device — one that can be upgraded with additional app-based features, paired with a Bluetooth alert button or eventually replaced with a newer model.
More freedom, more safety for everyone
The advantages of an app-based personal emergency response system don't stop there. By leveraging the benefits of mobile devices, they also grant us more freedom. Whereas traditional PERS were bound to fixed landlines, app-based PERS solutions can be used anywhere there's cell reception. They're also less expensive because there's no need to buy additional emergency response system hardware.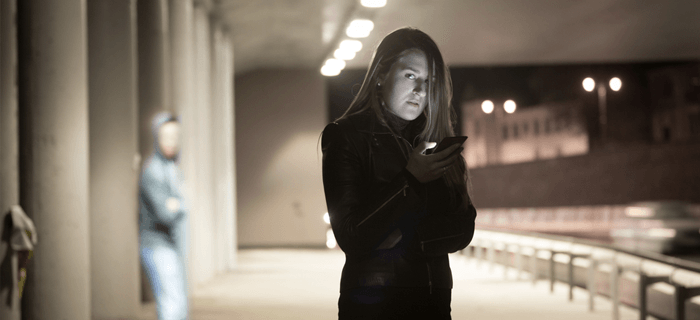 That brings added safety. For instance:
Parents

can give their school-age children an inexpensive mobile phone as a personal emergency alert device. They can then rest assured in the knowledge that their children can easily signal for help in an emergency.

Organizations

with a mobile workforce can send individual employees out in the field with more confidence about their personal welfare.

Seniors

can continue to use the app—along with a portable, easy-to-use Bluetooth device—as an emergency response system for the elderly but not feel restricted to their home. Or be tied to outdated technology.

Universities

can provide their ever-changing student population with an optional PERS solution to increase security on campus.
The marriage of an app-based PERS solution with a mobile device also brings the possibility of additional hardware and software integration. That extensibility is lacking in traditional personal emergency response devices.
Bridgera brings PERS into the IoT age
Bridgera has a long history of building cost-effective, full-featured PERS solutions. We've leveraged that expertise to create a white label app-based emergency response system. It's called Bridgera Rescue.
Bridgera Rescue offers the following features:
A large red

panic button

sends an instant call for help to the monitoring service. Other vital data is sent, too, in order to ensure that the responders are fully informed about the caller's identity, medical conditions and so on.

Location-based features

like geofencing enable the user to send automatic arrival and departure notifications. Real-time location awareness tracks the user's movement so that this information doesn't have to be verbally relayed to the responders.

A

24-7 personal security monitoring service

provides constant vigilance and peace of mind.

 
Best of all, Bridgera Rescue can be custom-branded with your own details. This allows any company, organization or educational institution to add a powerful personal emergency response system to their current offerings without having to invest in expensive development or added infrastructure. Special features can even be added on request.
You don't have to spend time guessing if Bridgera Rescue is right for your scenario. Simply fill out a free demo request and we'll gladly walk you through the specifics.