By Joydeep Misra
June 14, 2016
Will platform software prevent software obsolescence? 
Accenture recently published their Technology Vision 2016. I applaud Accenture for maintaining a summary of their "Tech Vision" from 2015 and 2014 in this publication. It is rare that a forward looking report looks back at past predictions. Perhaps they did it because they were pretty much spot on.
I am particularly interested to see where 2016's Trend 3, the Software Platform Economy, is headed and if it could become the answer to "upgrade" challenges that inevitably come with enterprise software investments.
In the beginning it was all custom software
Before packaged enterprise software, a.k.a. Out-of-the-Box software, business process automation projects were driven by bottom-up requirements feeding into a software development effort. The business received what they wanted but often at an extreme cost, not easily justifiable for the masses. As the custom system aged, experienced developers became expensive and hard to find. I have personally heard CIOs claim that they were being held ransom by these developers.
CIO Pain: "My legacy system developers are holding me ransom"
Then there was Packaged Software
Packaged software evolved to reduce total cost of ownership with the promise that updates and maintenance would be provided by the OEM, eliminating this "pain" of being held ransom. As long as you followed the OEM's best practice, the value proposition would be significant.
"If you need it faster, you can customize"
The Out-of-the-Box promise unfortunately turned into a customized nightmare with nearly every production deployment being customized.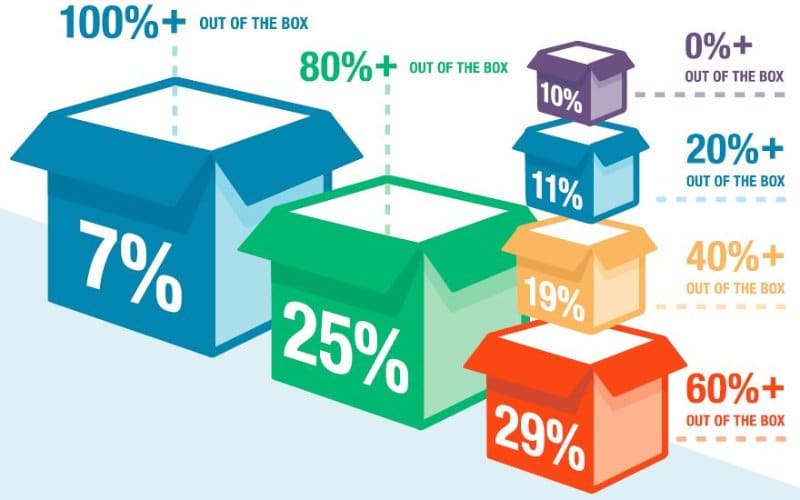 The ugly side of packaged software was that it was designed to support the OEM's point of view for standard business processes with functionality to fill gaps generally coming over time through upgrades. The OEM's standards were unable to take into account the customer's need to maintain differentiation, remain operable (integrated) with legacy systems, and close gaps ahead of the OEM's development timeline. Therefore, customization was inevitable and ultimately created a compatibility issue with future upgrades. It was not uncommon to see upgrade costs exceed the cost of the initial implementation resulting in upgrades being delayed and the software eventually becoming obsolete.
CIO Pain: "I am fighting a software obsolescence battle because I cannot justify the cost to upgrade customized packaged software"
Could platform software be the answer?
Could a platform, designed to be customized, be the "Goldilocks" solution? Cost effective, inter-operable, and differentiated, a.k.a "Just Right". By leveraging a platform for the core of the application that is common, and building uniquely the components that support proprietary business processes or a unique brand experience in the form of modular apps that plug into standard interfaces, an end solution can be created that is both cost effective and differentiated.
You are now asking if the bottleneck will simply shift to the Platform OEM and their ability to support and innovate
Open Source
A platform that leverages Open Source Software and the idea of modular apps (see Accenture's 2014 Tech predictions) has the promise to keep total cost of ownership manageable by offering options for development and support. Open Source ensures a large pool of developers will be available to support the end solution coupled with providers such as Red Hat, Hortonworks, and Cloudera available for commercial technical support. Perhaps an answer.
We, at Bridgera LLC, have fully embraced the platform economy with Open Source enabled Big Data and IoT applications. We start client engagements with a platform providing a standard foundation that eliminates much of the time and expense associated with the 80% that is the same for every deployment. The platform allows us and the client to focus on the 20% that is truly proprietary, or brand specific, protecting their competitive advantage through this automation.
Could platform software overtake packaged software as the preferred approach to business process automation within an enterprise? Do you see the line between packaged software and platforms eventually blurring to a point where this "Software Thing" is usable Out-of-the-Box (or more likely Out-of-the-Cloud) but is so flexible that customization and extensions are not impacted by upgrades? Could Open Source be a catalyst to reduce the support costs?   We would love to hear your opinions and ideas.
Planning for a new IoT Project?